Think of Moments, a $1 app from GetApp, as a virtual bulletin board for your iPhone or iPod touch. The sticky notes you paste in the app can act as simple reminders, short lists, or countdowns to the days to and from pre-determined events. ("X days until graduation." for example, or "X shopping days until Christmas.")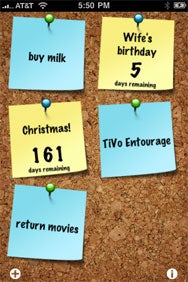 This should sound very familiar to Mac users who've ever turned to Stickies. Personally, I've never been a big Stickies user on my Mac, but I know some people rely on it. And if you're one of those people who have been on the lookout for a similar solution for your mobile device, Moments can fill that space.
The Moments interface is very simple and nicely designed. You are able to choose from three styles (cork, metallic, or camo-fabric). From there, you can choose to add a new note, or a new "Moment." Pick Moment, and you can select a due date via the iPhone's familiar scrolling calendar input panel. Once the date is chosen, a countdown begins. Need a simple reminder for your wife's birthday? Add a Moment, and you can easily see how much time you have left to buy a gift. (Only 5 days—better hurry!)
Moments can display six notes per page, with the ability to add multiple pages. Much like the iPhones home screen, you swipe left or right to move between pages. You can also tap and hold on a note, and then move it or around the page or slide it to another page. It's a very familiar behavior for iPhone users, so navigating through Moments feels quite natural.
If you're looking for a well-designed, visual note app for the iPhone or iPod touch, the Stickies-like Moments will be right up your alley.
Moments is compatible with any iPhone or iPod touch running the iPhone 2.x software update.
[ Beau Colburn lives in Boston with his wife, and he hopes he doesn't forget her birthday.]