Cool fx is a image-editing app by photo industry veterans The Tiffen Company. In its App Store description, the app promises to simulate different color and black-and-white photographic looks, diffusion, motion picture and film stocks, and optical lab processes. It certainly delivers on that promise—perhaps too much so for some users.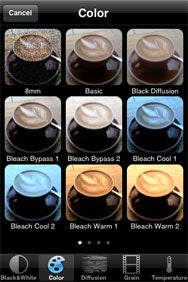 Cool fx functions very simply while giving you a large range of options. As soon as the app launches, you are prompted to pick a photo from your camera's photo roll. Once you've picked your photo, you have five different effect areas from which you can alter the photo: Black & White, Color, Diffusion, Grain, and Temperature. Each of these effects categories contain anywhere from 18 to 50 individual options for specific adjustments to be made.
For example, when choosing to adjust a image in the Black & White setting, you have more than 40 options from which to select (8mm, Old Newspaper, Sepia, and so on). From there, you can dig further in and make individual adjustments to each specific setting. With more than 170 pre-sets—and the ability to adjust each individually—the possibilities are limitless.
And that can be a bit of a problem. There may be a group of people that look for this level of adjustment control on the iPhone, but for me, it's too much. There are plenty of iPhone apps that allow you to make a few quick adjustments to iPhone photos. However, if I have a photo that needs attention beyond these basics, I'm going to edit on on the computer, where I have the most options, the most precise adjustment control and can see the full size image.
If you have the need to add a huge range of effects to an image while on the iPhone, Cool fx provides tons of options. (And it's currently on sale for $1, as of this writing.) However, if you just want to tweak a few pictures every now and then, there are other apps out there that may feel less overwhelming.
Cool fx is compatible with any iPhone or iPod touch running the iPhone 2.2.1 software update.
[ Beau Colburn lives in Boston where takes a lot of photos with his iPhone.]