Apple on Thursday released the second iteration of its Logic Studio suite of multimedia tools with the musician in mind. The new version includes Logic Pro 9, MainStage 2, Soundtrack Pro 3, Compressor 3.5, and WaveBurner 1.6. Additionally, Logic Studio includes all six of Apple's Jam Pack loop sets along with its bundled sound effects, surround sound music beds, EXS24 samples, and impulse response files.
Read our comparison of the new Logic Studio and GarageBand.
Among its more than 200 new features, Logic Studio offers significant enhancements for guitar players and live performers. For guitarists, the suite includes Amp Designer and Pedalboard plug-ins, features similar to the guitar tracks and stompbox effects introduced with iLife '09's GarageBand. Amp Designer includes 25 amplifiers and 25 matched cabinets that can be captured with one of three virtual microphones. You can mix these amps and cabinets—for example, to play a Mesa Boogie-like amplifier through a Marshall cabinet. Each amp includes 5 EQ and 10 reverb presets.
Pedalboard adds 30 stompbox effects that users can array along a virtual pedalboard. Unlike with GarageBand's stompboxes, you can trigger them via a MIDI or USB controller.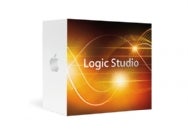 For those taking to the stage, MainStage 2—Logic Studio's live performance tool—includes two new plug-ins. The first, Playback, plays pre-recorded backing tracks—chorus background vocals or a backup band for a solo performer—that you can trigger with a USB or MIDI controller. The other is Loopback, a sound-on-sound tool similar to the venerable EchoPlex tape-based loop device popular in the 1970s. With Loopback, you can record a track on stage and then add additional layers with each pass of the virtual tape.
The new Logic Studio also adds functionality to Logic Pro that makes difficult studio chores easier. Flex Time, for example, lets you move digital audio snippets forward or back in time as well as lengthen and shorten parts within a phrase to change the rhythmic feel. With Flex Time you can simply select and drag the portion of the audio that you'd like to shift and if audio near it needs to be compressed or expanded to accommodate it, Logic Pro will take care of it automatically. Drum Replacer will replace a recorded drum track with triggered samples. And Selective Track Import allows you to move selected tracks and their setups from one project into another and, when combined with Flex Time, even map the new project's tempo and feel to the imported tracks. For example, import Tuesday's Take 2 drum track into Thursday's Take 5 project and map that project's tempo and feel to the imported drum track.
The new Logic Studio costs $499. Upgrades from the previous Logic Studio or Logic (including Logic Gold 5 and Logic Platinum 5 and the succeeding Gold, Platinum, and Pro editions after) are $199. Logic Express owners can purchase an upgrade to Logic Studio 2 for $299.