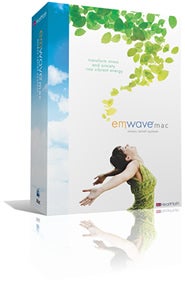 HeartMath on Wednesday announced the emWave Mac Stress Relief System, the first Mac version of the company's hardware/software package designed to help users "prevent, manage and reverse the negative effects of stress, anxiety, fatigue, depression and more."
The company claims the emWave system uses patented heart-rhythm feedback technology to collect data through a USB ear sensor. The software lets you monitor, in real time, how thoughts and emotions affect your heart and nervous system. The data is displayed on your computer as user-friendly graphics.
The emWave system includes interactive stress-reduction tutorials and games to help you change your responses to stress and "create a state of internal balance"; the hardware monitor lets you instantly monitor your progress.
According to the HeartMath Web site, the $299 product will begin shipping July 27.