Apple's Compressor has always had a sole mission: to compress video footage to other formats. Version 3.5 enhances these capabilities by making the power of the program easier and faster to get to, and extending Compressor's mission beyond merely compression to encompass the next logical steps for a video encoding job. Apple has also improved the Droplets feature and added Batch Templates to allow for end-to-end compression workflows—and even custom ones.
Job Actions
Older versions of Compressor allowed you to launch an AppleScript after compression. Can you write AppleScripts? Me neither. So now we have Job Actions, accessed via simple pop-up menus, to do the things users most often want to do with compressed files. For example, Compressor can produce playable DVD or Blu-ray discs from just-compressed movies automatically, post movies to YouTube or MobileMe ( ), or put them into iTunes ( ) so our Apple devices can sync with them. The process is quick and easy, and just a mouse click away—excellent! You can also run an Automator script as a post render action, and that is a much more achievable task for most people. Job Actions at first appear to be limited to one action at a time per file queued. But with a bit of finessing using the Job->Source->File menu, you can apply multiple Job Actions to a single file—very slick!
Batch Templates
Batch Templates expand on the Job Action idea and let you create your own end-to-end workflows. For example, you can compress a file to multiple formats, and then publish some files on the company Web site, burn others to a DVD, and also burn a Blu-ray disc (or Blu-ray content to a recordable DVD)—all from a single Batch Template. There are several useful workflows already built in to the program, and you can easily create your own in Compressor with a few clicks, and optionally add them to the similar Share interface that shows up in both Final Cut Pro and Motion.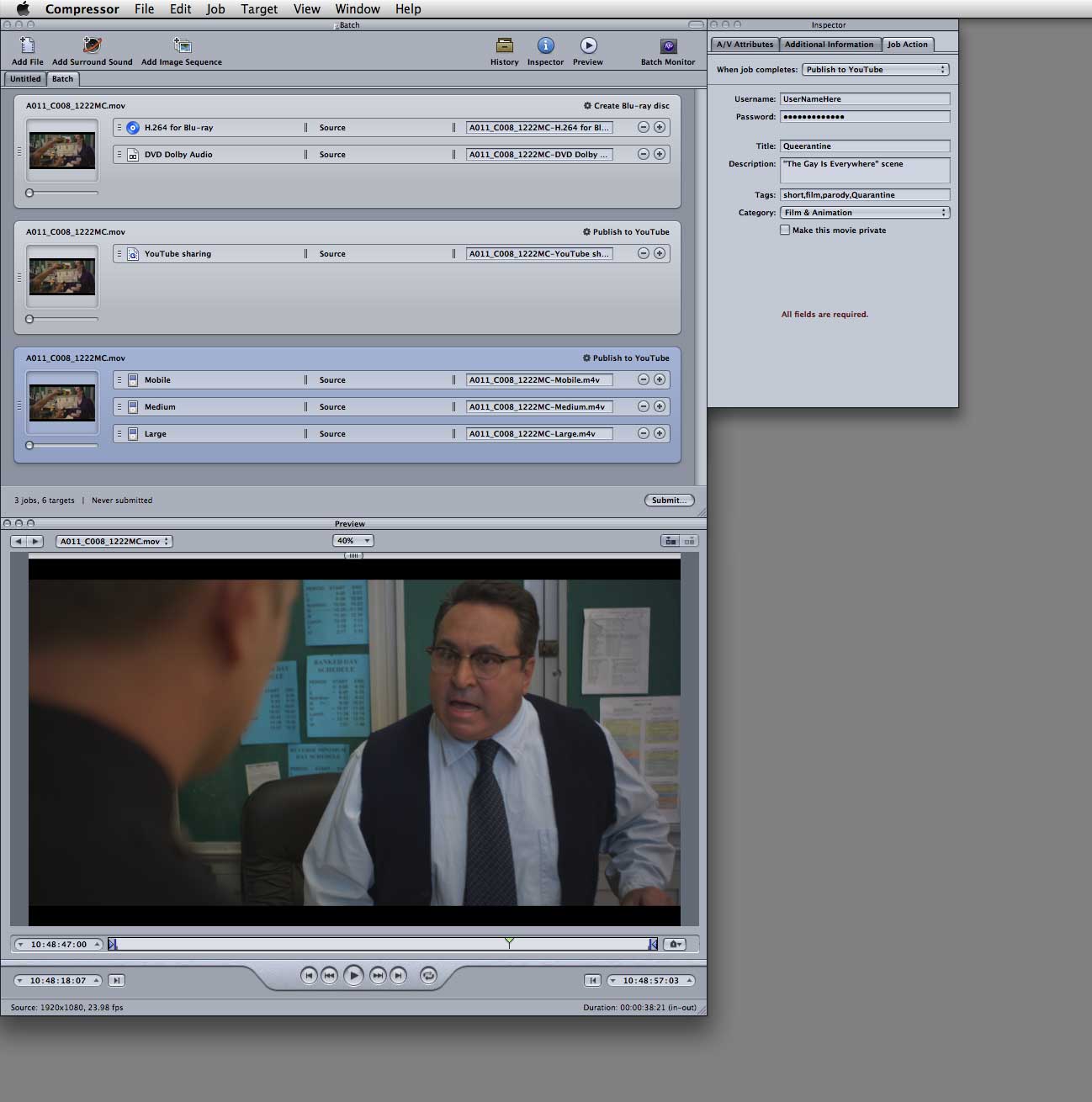 Improved Droplets
Droplets have an improved user interface that is easier to comprehend, and offers more choices of what to do and where to store the results. Droplets can also be shared with others, and will work if the other user has Compressor 3.5 installed. Since Droplets can contain all the smarts of both Job Actions and Batch Templates, you can make a very complicated sequence of events (like the described Batch Template above) into an icon onto which you can drag and drop other files to launch the string of commands. Say your editor tells you, "The final ProRes is on the server," you can drag, drop, and then go to lunch while the files get created, posted, burned, or whatever sequence you built in. This is great.
Useful improvements
Let's say you find some clips that you want to compress in just the same way as a movie you already have or may have found somewhere. All you have to do is drag the existing QuickTime movie to the Settings pane in Compressor and a new setting is generated based on the attributes of your original movie—sexy. DVD and Blu-ray encoding and burning are possible here as elsewhere in Final Cut Studio, but this is your only Blu-ray support within the suite (see our Final Cut Pro 7 review for more details). Another improvement is image sequence support for TIFF, Targa, DPX, and OpenEXR formats. These sequences are treated as a single clip instead of a pile of individual frames, a significant improvement for compositors and film workflows. Network rendering for clusters has also advanced. And of course, Compressor 3.5 supports all the new ProRes flavors.
Bottom line
All in all Compressor, one of my favorite nerdy utilities, is now more powerful, easier to use, and does more–a win-win proposition if ever there was one.
[Mike Curtis has been pushing pixels for a living for more than two decades, and presently consults on Final Cut Studio and other post production issues in Santa Monica, California. He writes for Macworld, his own HDforIndies, as well as ProVideoCoalition.com.]