The smell of fanboys is in the air in San Diego, and that can only mean one thing — it's time for Comic-Con again. On Thursday, coinciding with the first day of the annual gathering of fans of genre comics, books, movies, TV shows, and even Internet musicals, Iconology has released its new $1 Comics by Comixology app for iPhone and iPod touch. The app isn't just a comic reader, but a complete digital comic store, including in-app purchase for comics from twenty different comic publishers (though not giants DC and Marvel) and several individual comic writers.
I've spent a few weeks with beta versions of Comics, and I have to say that it's the most impressive attempt I've seen to bring the entire comic-book experience to the iPhone.
Navigating the page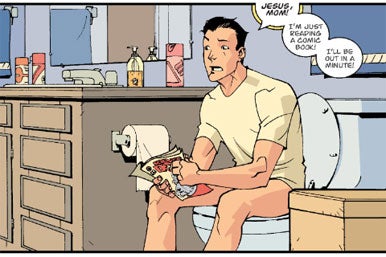 Because the iPhone's screen is so small, navigating around a comic page can be difficult. The most obvious approach to navigating is to treat each page as a single image and allow you to pinch and tap to navigate around the page, which can be a lot of work. iVerse Media's iVerse Reader solved the ease-of-use issue by ditching the traditional comic page entirely, chopping each panel up into iPhone-sized bits.
Iconology's approach with Comics provides the best of both worlds. By default, you can tap through a comic panel by panel, but the underlying full page still exists. Each page of the comics available on Comics has been invisibly marked up by Iconology, so that the app knows the proper panel sequence. When you tap to advance to the next panel, the app shifts your display to the next panel (or zooms in or pans across a single panel), but you actually see the view change as it tracks across the comic page. By controlling zoom levels and masking out the content outside the panel, Comics provides a reading experience that's essentially guiding your eye from panel to panel as the artist and writer intended.
For a lot of comics fans, that'll be a non-starter, because the joy of reading comics is often allowing your eye to roam around a page. (The comic-reader app ComicZeal does a great job presenting comics in this fashion.) Comics succeeds there because, at any point, you can drop out of reading a comic in guided mode and instead read it in the more standard iPhone style of pinching, zooming, and panning. It's relatively easy to jump back and forth between the two views, though I wish Iconology would make toggling between the two modes simpler than it is now.
Worst… issue… ever!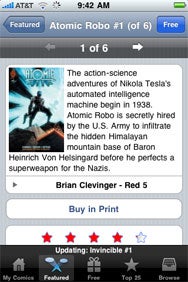 By offering the ability to buy comics from within the Comics app, you've got to wonder if Comic Book Guy might need to consider closing The Android's Dungeon and looking for a new line of work. I don't know about that — I sort of doubt that the iPhone is going to drive the traditional comic store out of business. But the fact remains, you can now treat Comics as your own personal iPhone comic store.
At launch, Comics includes 30 free issues, and additional issues are available for various prices, though the most common seem to be $1 and $2. Issues of the excellent teen-superhero comic Invincible) (written by Robert Kirkman, who has signed an deal with Iconology giving Comics the iPhone exclusive for his work) are $2, compared to $3 with the traditional paper issues.
Still unresolved, so far as I can tell, is if Comics will be stocking current issues or only time-delayed back issues. Invincible, for example, is already on issue #64, but only issues #1 through #5 are available on the Comics store. I understand that it takes some effort to mark up individual issues for the guided-view format, and starting at the beginning makes sense for readers who are new to these series.
But current comics fans will demand new issues. One of my big complaints with Marvel Comics' foray into digital comics, Digital Comics Unlimited, is that Marvel's catalog of digital comics is weighted heavily toward the past, and brand-new comics being published in the traditional flimsy paper form don't make it into digital form for years. Here's hoping that Iconology will push publishers to make recent issues available in its store — and perhaps even use the iPhone's Push Notification services to notify fans of the availability of new issues. (Update: Iconology's CEO tells me that the company plans to add new issues to its series at the rate of one per week until they catch up with the comics' current run.) Support for comic subscriptions would be a nice addition, as well.
Excelsior!
With Comics, Iconology has combined all the key features an iPhone-based comic-reader app needs. It lets you tap through a comic with ease, but also lets you pan and zoom around the original pages. It lets you download free samples and buy digital issues from within the app. Yes, digital comics are still in their infancy, but Iconology's Comics is their biggest step forward on the iPhone yet.
Comics by Comixology is compatible with iPhones and iPod touches running iPhone OS 3.0.
[Macworld Editorial Director Jason Snell owns all the Ultimate Spider-Man hardcovers.]