Apogee has introduced GiO, an audio interface and foot controller for the Mac, designed to work with Apple's new Logic Studio and GarageBand '09.
GiO gives guitar players hands-free control over recording and many new features in Logic Studio, including Amp Designer, Pedalboard, MainStage 2, Playback, and Loopback. GiO also works with GarageBand '09, making it easy for GarageBand users to connect their guitar to their Mac and control recording functions and stompbox effects with their feet.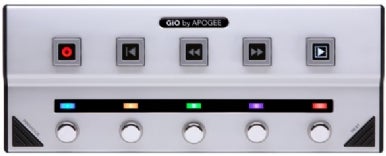 "Our Mac-only focus has allowed us to offer highly refined, innovative products, and give our customers an incredible experience." said Betty Bennett, CEO of Apogee. "With GiO, users of the new Logic Studio and GarageBand '09 have amps, stompboxes, recording control and legendary Apogee sound right at their feet, whether they're in the studio, at home, or on stage."
GiO's instrument input is specially designed for guitar—its 1/4-inch input features the company's instrument preamp and converters. These let you hear and record your guitar's true tone directly to Apple's GarageBand, Logic (both Studio and Express) and MainStage. Previous and Next preset select buttons let users audition and toggle between guitar amps and effects presets in the audio programs.
GiO is optimized for all pickup configurations from the single coil to sophisticated active electronics setups. GiO's five transport control buttons let guitar players record, play, stop, and quickly navigate through a project without taking their hands off the guitar. The same buttons can be assigned to functions selected by the user with MainStage 2, Logic Pro's live performance app. Guitar players can use the five stompbox buttons to individually control their favorite Pedalboard effects in Logic Studio while GiO's color indicators automatically adjust to match the colors displayed onscreen. GiO's Expression control pedal input allows access to traditional effects like wah-wah, and volume.
Connect your headphones, powered monitors, or instrument amplifier to Apogee converters via GiO's 1/4-inch stereo output to listen to your guitar and mix your composition.
GiO is fully powered by a USB connection to the Mac and built into an aluminum case. It requires a Power Mac G5 or Intel Mac running OS X 10.5.7 or later.
GiO will be available in September for $395.