Google released Latitude earlier this year as a location-based service (LBS) that competes with Brightkite and Loopt. After bringing Latitude to Android phones last month, it is now available as an iPhone web app—because Apple didn't want it as a native app.
Like similar LBS's, Latitude allows you to add friends, view their location on a map, and send messages to schedule lunch or a meeting. You get complete control over privacy settings such as who can see your location and how exactly it is plotted on their map. Latitude for iPhone also allows you to view traffic, search for businesses, and, of course, effortlessly update your own location. Simply visit Google.com/latitude to get started.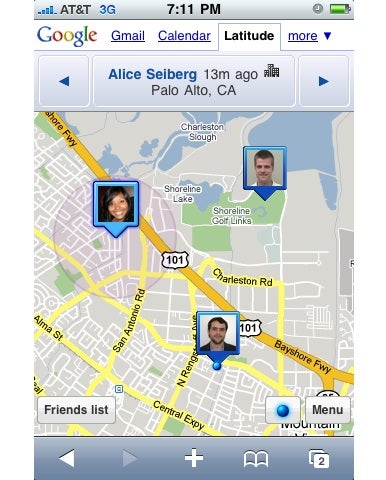 Interestingly, Google Mobile Product Manager Mat Balez notes on Google's Official Mobile Blog that "We worked closely with Apple to bring Latitude to the iPhone in a way Apple thought would be best for iPhone users." Whereby "worked closely with Apple," Balez means that Google originally developed Latitude for iPhone as a native app, and Apple shot it down. "Apple requested we release Latitude as a web application in order to avoid confusion with Maps on the iPhone, which uses Google to serve maps tiles."
Thanks to Safari's newfound access to the iPhone's GPS hardware in OS 3.0, Latitude works pretty well as a web app in our quick testing. But Apple's request of Google to rewrite Latitude as a web app must have been no small feat. This probably explains why Latitude arrived for just Android last month, instead of simultaneously for the iPhone, as has been Google's typical behavior so far.
Balez's blog post also points out that because the iPhone doesn't allow third-party applications (or web apps) to run in the background, "we're not able to provide continuous background location updates in the same way that we can for Latitude users on Android, Blackberry, Symbian and Window[s] Mobile." In other words, in addition to there being no native app, there's also not nearly the amount of functionality as on those four other platforms.