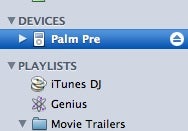 Palm has released webOS 1.1 as a free update to all existing Palm Pre owners. The update features slight enhancements and UI improvements across the board, a handy new feature that reminds you of specific tasks related to someone when a call from them comes in (so you never miss any opportunity to remind that one friend how much he owes you), and a new application from Sprint that allows you to watch or listen to live NFL games on the Pre itself.
Not bad for a free update, huh? Still not satisfied? Well, there's also this—it reestablishes the Pre's iPhone-like connection with iTunes that allows it to synchronize media from Apple's jukebox application. Or as Palm delicately notes in the change log, it "resolves an issue preventing media sync from working with [the] latest version of iTunes (8.2.1)." Hah, that's one way to put it.
Earlier this month, Apple released iTunes 8.2.1, describing a change that "addresses an issue with verifying Apple devices." Immediately thereafter, Pre owners discovered that their devices would no longer sync with iTunes. It had been widely speculated that Apple would yank the rug from under the Pre following the publication of an Apple tech note in June that noted Apple "does not provide support for, or test for compatibility with, non-Apple digital media players."
Palm's method of making the Pre work with iTunes is to mask the device as an iPod classic, thus enabling iTunes to treat it as one of its own. So how long will it take Apple to drop another iTunes update that once again severs all ties between the two mismatched devices? My guess: not too long. Which raises the question, why is Palm going about it the way they are? Why participate in a cat-and-mouse game where your opponent clearly has the upper hand?
[via Gizmodo]