Microsoft Chief Operating Officer Kevin Turner may have done "cartwheels down the hallway" when Apple called him to complain about the Redmond, Wash.-based company's "Laptop Hunters" campaign. But he must have cartwheeled past Microsoft's legal department because, as Advertising Age reports, the company has quietly altered its ad campaign in an apparent response to Apple's complaints.
The "Laptop Hunters" campaign, you may recall, features actors-on-the-street looking for low-cost laptops that meet some rather specific technical specifications. I do not believe I am spoiling the outcome of the TV commercials when I tell you that each one ends with the person choosing a Windows-based laptop. As easily as it may be to pick apart Microsoft's argument, there's no denying the ads have been effective, even forcing Apple to tweak its own "Get A Mac" campaign in response.
In June, Apple revamped its laptop line, which included price cuts for the MacBook Pro and MacBook Air models. Microsoft, however, continued to air its old—and now outdated—TV ads, prompting that phone call from Cupertino to Microsoft's Kevin Turner that the Microsoft executive was crowing about last week:
…two weeks ago we got a call from the Apple legal department saying, hey—this is a true story—saying, "Hey, you need to stop running those ads, we lowered our prices." They took like $100 off or something. It was the greatest single phone call in the history that I've ever taken in business. (Applause.)

I did cartwheels down the hallway. At first I said, "Is this a joke? Who are you?" Not understanding what an opportunity. And so we're just going to keep running them and running them and running them.
Microsoft may be planning to to "keep running them and running them and running them," but they'll be somewhat altered, according to the Advertising Age report. The original version of an featuring a law student and her mother includes a scene in which the two sniff about Apple pricing. "This Mac is $2,000, and that's before adding anything," moans Mom.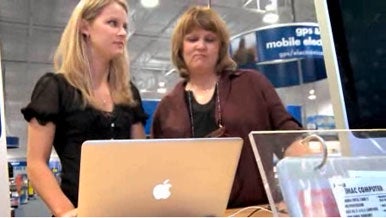 And now? Says Advertising Age:
In the latest version of the ad, that portion has been edited out. The original ad has been removed from YouTube and other sites by Microsoft, and replaced with a version in which Lauren doesn't talk about how much the Mac costs, but she does say: "It seems like you're paying a lot for the brand."
A Microsoft spokeswoman confirmed to Advertising Age that the change was made to the ad to reflect Apple's new pricing. "This does not change the focus of the campaign, which is to showcase the value and choice of the PC," she added.
Does it seem disingenuous to boast about Apple's apparently-quite-legitimate complaints one week and then quietly accede to that same request the next? Maybe. But from Microsoft's vantage point, maybe it's better to eat a little crow than stare down an FTC complaint.