At a Glance
Expert's Rating
Our Verdict
Leopard's Screen Sharing feature, which lets you view and control the screen of another Mac, can be quite handy, especially for performing remote tech support for family and friends. But my experience is that many people use it mainly with computers on the same local network—in the same house or office. For example, I frequently use it to peek in on my desktop Mac from my laptop.
If this describes your use of Screen Sharing, Stefan Klieme's ScreenSharingMenulet aims to make such connections easier by providing a menu-bar menu that lists any computers on your local network with Screen Sharing (or Remote Management—aka, Apple Remote Desktop) enabled. Choose a computer from the menu and the Screen Sharing application launches and initiates a screen-sharing connection to the chosen computer.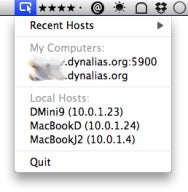 (Just as if you'd connected normally, the connection will be made immediately if you've previously saved the required username and password to the keychain; otherwise you'll be prompted to provide this info.)
Thanks to Bonjour, ScreenSharingMenulet's menu updates in real time, showing new Screen-Sharing-compatible computers as soon as they appear on the network.
The menu also provides a submenu that includes any computers to which you've recently connected. And if you've tweaked the Screen Sharing application to display its hidden browser, the menu displays any non-local hosts you've previously connected to, as well.
One feature that would make ScreenSharingMenulet even more useful would be an option to enter an IP address to connect to a computer over the Internet. But for quick connections on your local network, this simple program is tough to beat.
Want to stay up to date with the latest Gems? Sign up for the Mac Gems newsletter for a weekly e-mail summary of Gems reviews sent directly to your Inbox.