Western Digital (WD) on monday announced that it's shipping its Scorpio Blue 2.5-inch Serial ATA (SATA) hard disk drive mechanism in a 1TB version. It costs $250.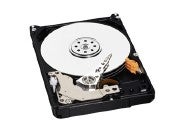 1TB is as large as mobile hard drives get at the moment, and WD claims it's the first hard drive manuacturer to ship a drive n this capacity. The Scorpio Blue line also includes a $190 750GB model.
The Scorpio Blue 1TB drive is 12.5mm tall and suitable for use in laptop computers or small portable external hard drive cases — in fact, WD simultaneously introduced a new version of its My Passport Essential SE portable USB drive in the 1TB capacity — it costs $300.
Features of the Scorpio Blue line include WhisperDrive technology, which WD says makes the drive operate more quietly; ShockGuard, a combination of firmware and hardware that improves shock tolerance; and SecurePark, which securely parks the drive's recording heads off the disk surface during spin up, spin down and wien the drive is off.