At a Glance
Expert's Rating
Pros
Fast
USB bus-powered
Space saving design
Our Verdict
Canon's CanoScan LiDE 200 scanner from is a compact, USB bus-powered flatbed scanner. About the size, shape and color of a 15-inch MacBook Pro, the silver and black LiDE features rounded edges and measures just under 10 inches wide, 14.4 inches deep and 1.6-inches thick.
Offering 4800 dpi optical resolution and 48-bit color scans, the LiDE 200 can handle originals up 8.5 by 11.7 inches. It offers no transparency scanning capabilities.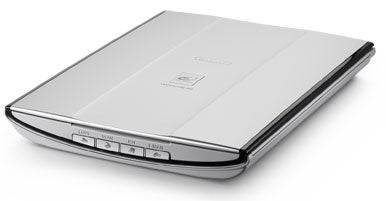 The scanner has four buttons (Scan to file, Copy [scan to printer], Scan to Email and Scan to PDF) to help initiate scans directly from the unit itself, rather than importing them in from applications using your Mac. All worked as advertised.
In our timed tests, the LiDE 200 showed impressive speed. A 600 dpi, 48-bit scan of our standard 8-by-10 color test photo took just 38 seconds. A 4-by-6-inch crop of that photo at 1200 dpi and 48-bit color depth took 1 minute and 17 seconds. The LiDE 200 also made quick work of our grayscale resolution test scan, with a time of just 46 seconds. We usually run that test at 16-bit grayscale, but found the LiDE to support only 8-bit grayscale scanning, which accounts for some of that impressive performance.
Unfortunately, the quality of the LiDE 200's scans was less impressive than its speed. A print of the LiDE's scan of our 600 dpi test photo showed the scan's image quality to be a bit red and lacked depth. Dark areas were blocked up, showing little detail. We also used the LiDE 200's Scan to Printer feature to print a copy of a Macworld magazine cover, printed on plain paper on our office color laser printer. In this test, we again found the LiDE's scan, though still of Good quality, to produce flat looking blacks and lacking the detail found in competitor's scans.
Macworld's buying advice
The slim, space-saving design and convenience of using USB bus-power instead of an external power brick are nice to have features. The CanoScan LiDE 200 has both, as well as speedy scan times and an affordable price. But its scan quality proved to be lackluster, making it harder to recommend except for those who place greater value on desktop real estate and time to scan over quality of the resulting scans.
Jury tests: Scan
| | |
| --- | --- |
| Color | Good |
| Detail | Good |
Scale = Superior, Very Good, Good, Fair, Poor
Timed trials
| | |
| --- | --- |
| 8 by 10 color photo (600 dpi) | 0:38 |
| 4 by 6 color photo (1200 dpi) | 1:17 |
| Grayscale chart (1200 dpi) | 0:46 |
| One-touch scan (300 dpi) | 0:14 |
Scale= Minutes:Seconds
Specifications
| | |
| --- | --- |
| Scan resolution: Optical | 4800 dpi |
| Max scanning bit depth | 48 bit |
| Connection | USB 2.0 |
| Scan sizes | 8.5 x 11.7 |
| Dimensions (in inches) | 9.9 x 14.4 x 1.6 |
| Special features | bus-powered |
[James Galbraith is Macworld's lab director. Product photo by Peter Belanger.]