Editor's Note: The following article is reprinted from the Today @ PC World blog at PCWorld.com.
The fall camera announcements keep on coming (see Fujifilm and Olympus's recent announcements), as Panasonic today announced three 12-megapixel, wide-angle point-and-shoots slated for September release.
The biggest and baddest of the three looks to be the Panasonic Lumix DMC-FZ35, an 18x optical megazoom model (27mm to 486mm) bolstered with optical image stabilization and 720p AVCHD Lite high-definition video recording at 17mbps.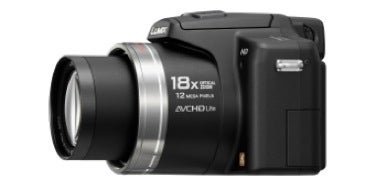 The camera includes a few advanced in-camera settings in both movie and still modes: manual aperture and shutter controls, as well as a mode optimized for high dynamic range shooting. There are also several specialized movie modes; Panasonic is touting the camera as a powerful point-and-shoot for shooting both stills and video. The FZ35 replaces the Panasonic Lumix DMC-FZ28 and will be available in September for $400.
On the much slimmer end of the spectrum is the Lumix DMC-FP8, an ultracompact with a 4.6x optical zoom range reaching from 28mm to 128mm and also featuring optical image stabilization.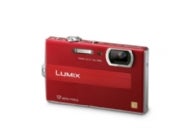 The FP8 has a couple of futuristic design elements: a Leica DC lens with "folding optics," and glowing blue LED buttons on the back to help with low-light operation. The FP8 shoots 720p HD movies as motion JPEGs, which are typically more easily handled than AVCHD Lite files. The FP8 will be available in September for $300.
Rounding out today's announcements is the Lumix DMC-ZR1, featuring an 8x optical zoom, an ultra-wide-angle Leica lens (25mm to 200mm), and optical image stabilization.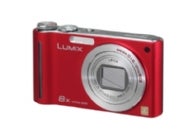 Like the FP8, it also shoots 720p high-definition video at 30fps, and saves the clips as motion JPEG files. No pricing or availability info is available on the ZR1 just yet.
All three cameras also feature Panasonic's Intelligent Auto mode, which optimizes in-camera settings based on the shooting environment, as well as a Face Recognition mode, which lets you register your friends' faces in pictures and have them auto-tagged in subsequent shots.
Panasonic Lumix DMC-FZ28 Bridge Camera