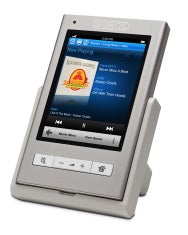 Sonos announced Monday the Sonos Controller 200, a complete overhaul of the company's wireless controller for its Multi-Room Music System. Whereas the original Controller 100 (CR100) provided an LCD display with an iPod-Click-Wheel-like interface, the Controller 200 (CR200) uses a 3.5-inch, full-color, VGA touchscreen display similar to the one on the iPhone and iPod touch.
In fact, the Controller 200's interface is closely related to that of the Sonos Controller for iPhone application. The company told Macworld it used the iPhone app as a testing ground for perfecting the Controller's software interface. (The controller also provides hardware buttons for Volume, Mute, and Zones.)
While the CR200 lacks the CR100's water-resistant casing, it gains a much more powerful interface for navigating your music, finding new music, and controlling the Music System. Key among the improvements, thanks to the touchscreen display, are iPhone-like navigation gestures and an onscreen keyboard that makes entering search strings, and creating custom radio stations on services such as Last.fm and Pandora, much easier than it was on the CR100. In addition, the CR200 is now made of machined extruded aluminum, instead of plastic, provides longer battery life, and includes a charging cradle; the cradle was a $40 accessory for the 100.
The Controller 200 is available today at a suggested retail price of $349. It is also available as part of a new $999 Sonos Bundle 250, which also includes a ZonePlayer 120 and a ZonePlayer 90.
Sonos Software 3.0
Sonos also unveiled Sonos Software 3.0, a significant update to the Music System's core software. The 3.0 software provides new tools for browsing and discovering music when using the CR200 or Sonos' iPhone app. According to the company, when listening to an artist, these tools let you easily view artist bios, album reviews, concert listings, and lists of similar artists.
The Music System software is a free update for all Sonos customers via the Music System's software update feature. Version 3.0 of the iPhone app should soon be available for free via the iTunes App Store. The free Sonos Controller for Mac and Sonos Controller for PC are available for download from the Sonos Web site.
For more information on the Sonos Multi-Room Music System, see our full review.