There are plenty of things you can do with iTunes that you can't do easily with CDs. One of them is keeping track of how many times you've listened to specific songs or albums. While you'd need a pen and paper—or a spreadsheet—to do this for music you listen to on disc, iTunes does this automatically. Each time you get to the end of a track, iTunes increments the play count, and, at the same time, updates the last-played date. Your iPod and iPhone do this as well, though the iPod shuffle records as the last-played date the date and time at which you sync the device after playing songs.
While for some these play counts are just notches in the belt of their digital music collection, for others play counts can be an integral part of a listening strategy. Since iTunes can fill smart playlists using play counts as a variable, using this information can help you make all kinds of playlists.
For example, one Macworld colleague has a single playlist in his iTunes library and on his iPod. The playlist has one condition: Play Count Is 0. He listens to music from this playlist, until it is empty (that is, until there are no more tracks with a play count of 0). At this point, he selects all of his tracks in iTunes, Control-clicks, then chooses Reset Play Count to set them all back to 0, and fill the playlist anew.
Some people will use a similar playlist to be able to listen to music they've recently added to their iTunes library. (In other words, they won't reset the play count to start over.) This kind of playlist ensures that you hear tracks that you haven't listened to before, and it always includes your newest tunes.
Using the play count condition in a smart playlist lets you refine your listening. You may choose, for example, to create a smart playlist where the artist is Grateful Dead, and the Play Count condition Is In The Range 5 To 10. Or you may want a Beatles playlist where you only hear songs whose play count is greater than 5, so you'll only hear your favorite tunes, the ones you listen to most. There are a number of options for the Play Count condition.
Let's say you want to see which songs you've listened to most. Set up a smart playlist where Play Count Is Greater Than 10, for example, then view the playlist. Click on the Play Count column to sort in play count order, and you'll be able to see your top tunes. On the other end, you can make a playlist where Play Count Is Less Than 5, and sort in reverse order to see which tunes you don't listen to much. You may, after looking at this playlist, decide to put some of those songs into rotation to listen to them more often (or remove them from your library).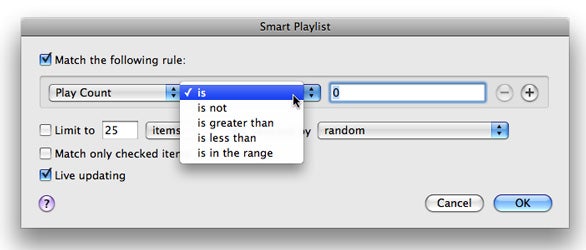 Note: for those who want to manipulate play counts—you can't do so manually—check out Doug Adams' Add or Subtract Play Count and New Play Count AppleScripts.
iTunes has another counting trick up its sleeve: it records "skip counts". A skip count is added to a track when you skip over it on your iPod, by pressing the Next button before the track has completed, or when you skip a track when using iTunes DJ.
You can see your skip counts by displaying your library, pressing Command-J, and clicking on Skip Count. An easier way may be to set up a smart playlist, with the condition Skip Count Is Not 0. You may want to use this playlist to weed out the songs that you don't like to listen to, then, perhaps, uncheck them so they don't get copied to your iPod (if you have checked the Sync Only Checked Songs And Videos option on the Summary screen when your iPod is connected).
If you want to reset the skip counts, you can do so as you would for play counts: select the tracks you want to reset, then Control-click and choose Reset Skip Count.
Some people don't care about the play counts, but others find them to be a valuable way to create smart playlists. What about you? Share the ways you use play counts in the comments below.
[Senior contributor Kirk McElhearn writes about more than just Macs on his blog Kirkville.]