Gameloft's Castle of Magic is an excellent adventure platform game in which you play the part of a boy trying to save his friend from an evil magician. That sets you out on a quest through pirate ships, enchanted forests, lands made of candy, ice worlds, and even space.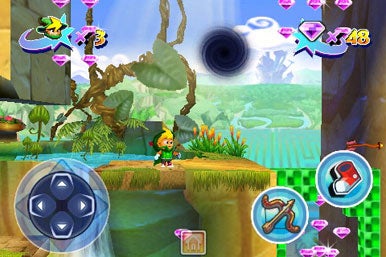 Actually, Castle of Magic offers 10 worlds to explore, each containing three levels and an end boss to defeat before moving on to the next world. Along the way, you'll encounter plenty of magical monsters and foes as well as jewels, stars, and extra men to collect.
The game also offers some really cool power-ups that will transform you into a swordfish darting around under water, a hunter shooting arrows in the forest, a fireball throwing magician, and a few others you'll enjoy discovering on your own.
The controls are handled nicely with an action button, a jump button, and a virtual D-Pad that I found responsive and accurate. When jumping, you can tap the jump button a second time to do a double high jump and hold it down to glide softly towards the ground.
Castle of Magic boasts amazing graphics and stunningly detailed 3-D worlds. The trees and other foliage sway gently in the wind and the backdrops are simply gorgeous. It's one of the best-looking games to hit the App Store, and certainly among the most enjoyable that I've played.
For near-console game quality at $5, Castle of Magic is a steal. And if you'd like to see for yourself, a free lite version of Castle of Magic lets you play the first level to get a feel for the game.
Castle of Magic is compatible with any iPhone or iPod touch running the iPhone 2.2.1 software update.
[Tim Mercer is a technology enthusiast, graphic designer, and blogger, whose blog, digital-artist-toolbox.com, offers free resources to the digital artist and graphic designer.]