Imagine living your life and getting recognition for all the great things you do. You've finally squeezed in that third workout this week. You got a promotion at work. You made a new friend.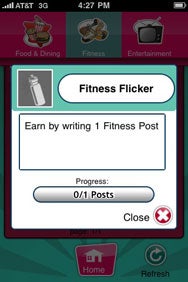 Booyah Society is a new kind of iPhone game where you gain achievements and credit for the events and accomplishments you make happen in real life. Developed by veterans from Insomniac Games and Blizzard Entertainment, Booyah Society is a free application just launched in the app store Monday.
According to Keith Lee, co-founder and CEO of Booyah, the concept behind the game is to "inspire and ignite people's passions" and to allow people to "impact the community around them." By boasting about your accomplishments to your friends, the thinking goes, you'll be more likely to keep active and make a positive impact on the world around you.
The developers at Booyah have sought to leverage the iPhone platform into making an "achievement system for life," Lee explains. You can get credit and earn achievements through posting and publishing your achievements across social networks. For example, posting three times about work within two days will net you the "Firestarter" achievement. These achievements unlock additional content in the game.
The initial app is free and will introduce the player to the Booyah community and the game's basic game mechanics. You'll be able to build your avatar, a 3-D modeled cartoon character that has full facial animations. You can customize and interact with your avatar; later, you'll be able to dress him or her in costumes you've unlocked through your achievements.
Primarily, Booyah Society is a social application. When you first open the application and tap on the Community tab, you simply log into Facebook once and the application populates using your Facebook friends. You can comment on other people's achievements and posts and have your avatar visit a friend's.
You'll also stumble upon something called a "Booyah moment." A Booyah Moment is like saying "hooray!" or celebrating something you've accomplished in life. Just beat your friend at chess? That could be a booyah moment. Just found your lost sock? That could also be a booyah moment. Like anything in Booyah Society, you can post a booyah moment publicly or privately. You'll also have access to a journal calendar where you can track your progress in various categories and keep track of life's important events.
Each category—Work and School, Arts and Culture, and so on—has its own background, achievements, stats, and recommendations. You'll also see which categories need attention. Have you been working a lot but haven't done anything entertaining in a while? This app will tell you.
Interestingly, the current monetization scheme for Booyah Society is ambiguous. The game lacks ads or banners to distract from the experience, which helps keep the game's interface clean and distraction-free. But since the current version of the application is free, the possibility to monetize downloadable content is off the table per Apple's iPhone regulations. Another version of the application may be in the works that is not free and includes monetization schemes such as paying for downloadable content.
Booyah Society is available for download in the App Store. The app runs on any iPhone or second-generation iPod touch using the iPhone 2.2.1 software, though the developer says it's been tested with the recent iPhone 3.0 update.