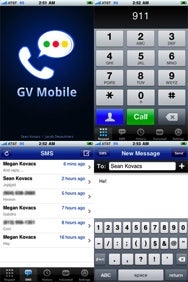 A week or two ago, I managed to snag an elusive invite to the Google Voice telephony service. Google acquired the developer, GrandCentral, two years ago, and the service has been in beta ever since. The service allows you to choose a phone number and have it ring all of your phones at once; you can also screen callers as they leave voicemail, choose not to have certain phones ring during certain times (such as the weekend), and even have recordings of your voicemails sent to your e-mail, along with machine transcriptions.
It's easy to see why an iPhone-native Google Voice application would have its appeal. My iPhone, after all, is the only phone I have: both work and personal calls come to that number, so it would be nice to have a little more control over managing those calls. Thus, the news that Apple has removed and rejected Google Voice applications causes me no end of consternation.
The first shoe to drop was the removal of Sean Kovacs's GV Mobile, a third-party app that allowed Google Voice subscribers to not only dial numbers using the iPhone's address book, but also send SMS messages, play back voice mails, and even make cheap international calls.
Clearly, this caused someone at Apple no end of discomfiture, for Kovacs said on his blog that he received a call from the company informing him that the program was being removed for the ever-vague "duplication of features." Kovacs also claimed on his Twitter account that the app had initially been personally approved by Apple senior vice president Phil Schiller. Kovacs has since announced that he'll be releasing GV Mobile for free via Cydia for those who have jailbroken their iPhones.
Other Google Voice programs such as GVdialer and VoiceCentral were likewise pulled; VoiceCentral's developers said on their blog that they were trying to reach a resolution with Apple.
Nor are the third-party developers alone. Earlier this month, Google released Google Voice programs for both the BlackBerry and Android platforms, but an iPhone app was notably absent. In a statement to tech blog TechCrunch, a Google spokesperson said that the company had submitted an application to the App Store several weeks ago, but that it had been rejected by Apple.
As with most issues related to telephony, it's easy to point the finger to Apple's partner in crime, AT&T, which certainly doesn't have the best track record when it comes to embracing competitive technology. However, even if pressure from AT&T was part of the equation here, the fact remains that Apple bowed to said pressure—and did so at the disadvantage of one of its major allies. Google CEO Eric Schmidt, who sits on Apple's board of directors, said in 2008 that he recuses himself from board discussions of the iPhone, with which Google's Android platform competes. According to The Wall Street Journal, Schmidt reiterated the stance as recently as earlier this month, saying at a Google press conference, "I recused myself from iPhone because it was a direct competitor."
Apple's relationship with AT&T has begun to look decidedly shaky during the past several months—the wireless carrier was openly booed not once but twice at Apple's WWDC keynote, and still has yet to deliver on the subject of those criticisms. This latest development comes amidst news that Verizon is planning to roll out 4G testing later this year for launch in 2010, suggesting that Apple may at least have the option of switching horses in the not too distant future.