The Lexmark RFID UHF Option was released this week as a $2,500 accessory to the company's T654 monochrome laser printer. When equipped with this option, the printer can produce individual Radio Frequency Identification (RFID) tags that can be attached to individual files, hardware, or other items for easy tracking and access.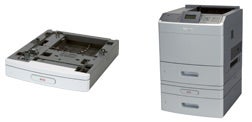 This accessory attaches in place of a drawer to the T654 and enables the printer to output up to 20 RFID radio tagged pages per minute, arranged either horizontally or vertically on media ranging from 5 by 7 inches to 8.5 by 14 inches.
The tags can then be stuck on items, or even included in boxes; a locator device can track down the tagged item by the tag's serial number.
The company claims that this peripheral can save thousands of dollars compared to a dedicated RFID thermal printer.