Does the iPhone really need a dedicated app for reading PDFs? After all, you can download them right from the phone's Safari browser or when you receive a PDF attachment. Still, these methods have limitations—namely, that you need to use either the browser or the mail client to access them.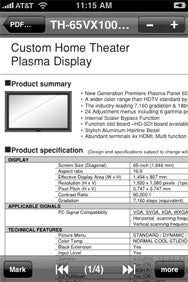 In that sense, PDF Reader Pro is much more flexible. The $1 app from Yuyao Mobile Software allows you to load your iPhone with PDF files, organize them in folders, and open them anytime you want, without visiting a Web site or opening an e-mail message.
Early versions of the app were a bit unstable, but after testing 200 PDF files in all shapes and sizes—a 200-page novel, a product spec sheet, a contract, and many other documents—PDF Reader Pro never crashed or stalled when advancing through pages. The app lets you bookmark a page, a distinct advantage over the browser method. There are also two viewing modes—one that that works fast but shows pages in a low-res view, and another that runs much slower but shows crisp fonts and photos. I'd prefer fast and high-res, but the rich PDF format normally requires a fast desktop processor.
The main perk for PDF users, though, is a simple file upload system. On your Mac, you type in an IP address to access the phone and then upload any PDF. You can then arrange PDFs into folders. This makes managing them easier.
PDF Reader Pro ran fast on an iPhone 3GS and never crashed. PDF files look perfect. I recommend it for the ease-of-use, file-upload system, and accurate rendering.
PDF Reader Pro is compatible with any iPhone or iPod touch running the iPhone 2.2.1 software update.
[John Brandon is a 20-year veteran Mac user who used to run an all-Mac graphics department.]