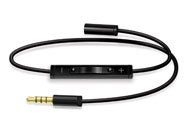 iLuv has announced the iEA15 Headphone iPod Remote Adapter for use with the second-generation iPod touch, fourth-generation iPod nano, 120GB iPod classic, and third-generation iPod shuffle. It works with any standard third-party headphones, and lets you control iPod playback with its inline buttons.
The $15 adapter lets you adjust volume, as well as play and pause music, or skip to the next or previous track on all supported iPod models. It also supports the VoiceOver feature on the latest iPod shuffle. It'll be available in August.
Belkin also announced a shuffle-only adapter on Tuesday that will go on sale later this month.