Crash Bandicoot Nitro Kart 3D was among the first games to hit the App Store when Apple's online emporium opened its doors a year ago. Since then, updates from Vivendi Games Mobile have been few and far between. So as other racing games have revved their way onto iPhones and iPod touches across the globe, how well does this year-old racing kart game set in the Crash Bandicoot universe hold up?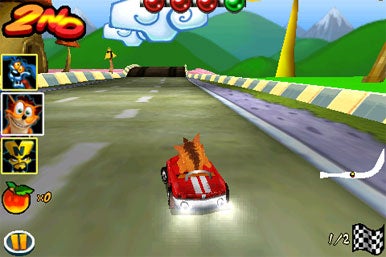 Pretty well, actually. Crash Bandicoot Nitro Kart 3D is an imaginative racing game that puts you in the role of Crash and his friends as they compete against Oxide and his allies in tournaments, story mode and time trials. These take place across 20 unique tracks, each featuring power-ups, power-downs, obstacles and weapons that can be picked up and used to your advantage.
Though not exactly bleeding-edge, Nitro Kart 3D does offer good graphics, better sound, a good physics system, and great touchscreen controls that respond with only a light touch. A good physics system immerses you in the game, while an auto-save feature does a good job of recording your progress. The game provides a step-by-step tutorial level that lets you get a feel for the level and controls while learning basics such as picking up weapons, firing them, turning, and drifting to handle tight corners.
A kart racing game is nothing if it's not fun, and despite some early reservations, I wound up getting sucked into Nitro Kart 3D. It helps that the levels get progressively harder as you progress, making for some satisfying gameplay. Even in cases where a level may have you pounding your head against the wall for the several attempts it takes to prevail, it only makes your eventual triumph that much more rewarding.
Modern racing kart video games are centered around the idea that items picked up over the course of the race can change everything within seconds and this holds true with Crash Bandicoot. Where you may be dramatically losing, grabbing a bomb or homing missile to fire at your opponents can put you in the lead; dropping an oil slick or box of TNT behind you can help pad your lead—at least until your opponent picks up a teleporter item to exchange positions with you.
Currently at version 1.0, Nitro Kart 3D could stand an update. Although the app mostly behaved under the iPhone OS 3.0 update, it did crash to the Home screen once and lagged when quitting to accept an incoming phone call. This, combined with an occasionally stilted frame rate, a lack of a throttle control and the fact there's no multiplayer mode, show that there's more work to be done.
Even with these drawbacks, Crash Bandicoot Nitro Kart 3D remains a fun title for the iPhone, an outstanding means of killing some free time and one of the better racing titles for the platform. Its $6 price tag is reasonable and with a few code fixes, a good thing can become that much better.
Crash Bandicoot Nitro Kart 3D is compatible with any iPhone or iPod touch running the iPhone 2.x software update.
[Chris Barylick is a frequent contributor to Macworld.]