Want photos that make an impact? Believe it or not, shots like this don't require impeccably fast reflexes. I captured this photo of a lightbulb being broken with a steel ball shot from a slingshot using a shoe-mounted flash and a sound-activated trigger called a sound sync.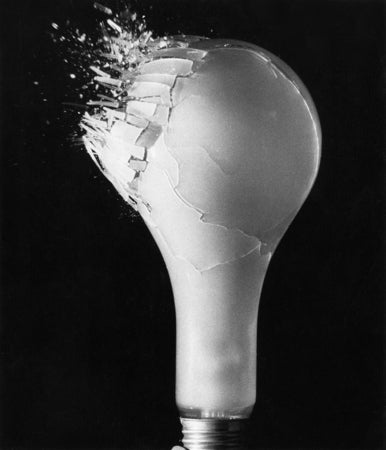 While most SLRs offer shutter speeds of up to 1/8,000 of a second, a standard shoe-mounted flash's light can last as little as 1/50,000 of a second. When placed in a dark room, that burst of light is fast enough to stop even a speeding bullet.
I started by placing the lightbulb in a completely dark room and setting my shutter-speed mode to the Bulb setting (typically only available on SLRs). This keeps the shutter open for as long as I keep the shutter release button pressed. I recruited a colleague to fire the steel ball on my command.
The biggest challenge with this type of project is firing the flash at the moment of impact. That's where the sound sync comes in. When something makes a noise—such as a popping balloon or a lightbulb smashing—the sound sync trigger fires the flash. I then closed the shutter by releasing the shutter button. It took about five tries to get a shot of the breaking glass that I was happy with.
You can buy a trigger from Universal Timer or build your own high-speed photography setup. For instructions go to DIY Photography or Make.
[Jennifer Wills is a professional photographer and designer, and a cofounder of W+W Design.]
[Editor's Note: Want to submit your own photo to our Snapshot series? Send the photo (or a link to the photo) and a description of how you got the shot to digitalphoto@macworld.com. We'll pick our favorites and feature them on our Website.]
Note: When you purchase something after clicking links in our articles, we may earn a small commission. Read our affiliate link policy for more details.