I wasn't initially sure what to make of NimbleBit's Sky Burger for the iPhone and iPod touch. After all, here's a game where you're assembling a tower from parts that fall from the sky—only, in this case, the parts involve food.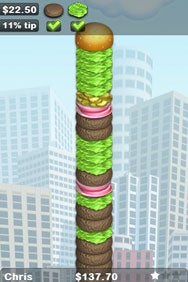 Strangely enough, it works. The $2 Sky Burger challenges you to build either the tallest hamburger possible or a specific hamburger from a slew of randomly falling ingredients. As the hamburger gets taller, the game's physics kick in. The hamburger stack, which shifts from side to side to both dodge and gather ingredients, gains its own sense of weight and inertia, thus becoming more and more unwieldy. Get the right toppings on the burger and you'll walk away with a handsome tip and "flair" (those colorful buttons memorably lampooned in Office Space). Add the wrong ingredients, and you'll watch your tip percentage rapidly decline.
All this is carried out in fine style, complete with bright, detailed graphics and clear, crisp sound and music that prove immersive from the get-go. A light, almost folksy backdrop of acoustic guitar music combines with top-notch sound effects to both cheer you on when you do something right and discourage you if you allow the wrong toppings to land on your burger.
It's the execution that makes the difference, and Sky Burger makes great use of tilt controls for the iPhone and iPod touch. Simply launch the app, create a character and you'll be comfortably tilting the unit back and forth to catch burger toppings within moments. Want to customize your game? Open the Settings menu to adjust tilt sensitivity and turn the music, sound effects and tilt control on or off. (You can also control the game by holding a finger to the touchscreen and using it to move your burger stack back and forth.)
Other bells and whistles include a global scoreboard and community as well as a nice backup feature that includes online backup of saved games. Burger creation went off without a hitch, even when text messages or calls intruded.
Sky Burger may be one of the better ways to slay 10 free minutes on an iPhone, but the game can feel a bit directionless, which both works for and against it. The only way to fail in the creation of a hamburger is to not gather the right ingredients, then allow a top bun to fall, thereby completing the incomplete burger and forcing you to start the order over again. There's no set number of lives, meaning you can play forever if you want. Sure, you can build up a cash reserve and work up the Sky Burger corporate ladder, but a more visible reward-and-punishment system might make the game more fun for a longer period of time.
Still, Sky Burger is simple, easy to pick up and play, and surprisingly fun. It's a fine choice for anyone hungry for a little casual gaming.
Sky Burger is compatible with any iPhone or iPod touch running the iPhone 2.2 software update.
[Chris Barylick is a frequent contributor to Macworld. His one summer in front of a broiler steamer at a Massachusetts-area Burger King rarely featured hamburger components raining from the sky.]