Apple has released its long-awaited MobileMe iDisk application for the iPhone and iPod touch. It's available for free download from the App Store.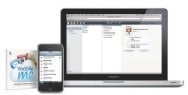 MobileMe iDisk enables iPhone and iPod touch users with MobileMe accounts to access the contents of their iDisk — the online storage component of Apple's subscription-based online service.
The application lets you view and share files stored in your iDisk; you log in with your MobileMe user name and password, then tap the Share icon to share files with others; they're sent a link by e-mail. You can assign a password to keep files secure, and limit the number of days the download will be available.
Viewing files is limited to iPhone-supported file types, including iWork, Office, PDF, QuickTime and others. Apple cautions that files larger than 20MB may not be viewable.
System requirements call for an iPhone or iPod touch running iPhone OS 3.0 and an active MobileMe subscription.