The following article is reprinted from the Today@PC World blog at PCWorld.com.
The sun is shining brightly through scattered clouds and a little bird is tweeting away as it floats upon currents of air. No, I'm not looking out my window, but at the new Twitter landing page that emphasizes search and a breakdown of Twitter's more popular trending topics — popular subjects Twitter users are discussing.
In a blog post late Tuesday explaining the redesign, Twitter co-founder Biz Stone said the new home page is meant to introduce to newcomers Twitter's power as a "discovery engine."
"Demonstrating the power of Twitter . . . for what is happening right now through our Search and Trends often awakens a sense of wonder," Stone wrote. Twitter's new home page is visible only to newcomers, but regular tweeps can take a look at the new design by signing out of the service.
The new page features a prominent search box, and three lines of trending topics broken down by current topics, the previous day's popular subjects and the top trending topics for the current week. Whenever you click on a trending topic, the new home page displays search results for that particular subject right in front of you without navigating away to a different tab or window. Another nice feature is that for some topics Twitter includes a brief description at the top of the search results explaining why that particular topic is featured. When you click on "#iranelection," for example, the top of the search results reads: "A large percentage of the Iranian population disputes the election of President Ahmadinejad, believing the election rigged. A 'Sea of Green' took to the streets (and internet) to protest."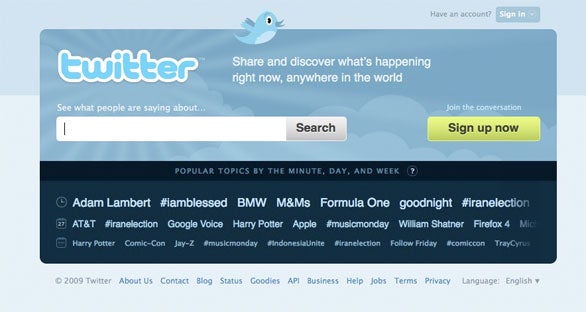 Twitter's main motivation for revamping its home page is to help newcomers understand how the service works, and what it can be used for. A survey released earlier this year by Nielsen Online metrics claimed that more than 60 percent of new Twitter users do not return to the service the following month after they sign up. That survey was soon taken as gospel by many journalists, and Twitter soon got a reputation as a passing fad that regular people had a hard time getting their heads around.
Despite my skepticism about Nielsen's findings, it turns out there may have been something to that earlier survey after all. Stone admitted in Tuesday's blog post that a common reaction among many people who are new to Twitter is "Why would I want to do that?" Compounding the user retention problem is that Twitter's previous landing page an did not do as good a job of explaining the service. (Click the adjacent image to enlarge it and take another look at that old design.) The old page featured a brief explanation of how the service worked, but did not demonstrate the service's effectiveness the way a search bar and a list of trending topics do. This is the second major change Twitter has undertaken to help prove its usefulness to the world. Earlier this week, the company launched a Web site called Twitter 101 to help business users understand how Twitter can help companies communicate with the public. Twitter's image-shaping campaign also comes as social networks like Facebook are trying to emulate some of Twitter's features.