Nikon has announced two new additions to its DSLR family: the D3000, which replaces the popular D40 at the low-end of the lineup; and the D300s, which replaces the D300.
Consumer-ready D3000
The budget-conscious D3000 offers a number of improvements over its predecessor, the D40 ( ), including 10.2-megapixels of resolution, a 3-inch LCD, faster 11-point auto-focus, continuous shooting at 3 fps (frames per second) with full resolution, and an automatic dust-reduction system. The camera also features an expanded ISO range from 100 to 1600, with an additional Hi-1 setting that extends the ISO to 3200.
The D3000 will ship with an image-stabilized AF-S Nikkor 18-55mm f/3.5-5.6 VR lens for $600.
Video-capable D300s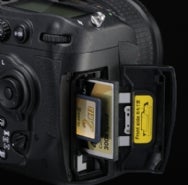 The D300s features two memory-card slots—one CF and one SD—which can be used simultaneously. You can choose to assign videos and photos to separate cards, for example, or use the cards to separate your raw files from your JPEGs. You can also move files between the cards.
The D300s is also faster (7 fps continuous shooting) than its predecessor, and features a Quiet Shutter Release mode that reduces the sound of the shutter when shooting. For high-contrast scenes, a new Active D-Lighting bracketing feature lets you shoot as many as five frames with varying degrees of Active-D Lighting control.
The D300s will sell for $1800 without a lens.
Both cameras will be available in late August 2009.
Note: When you purchase something after clicking links in our articles, we may earn a small commission. Read our affiliate link policy for more details.