Marble Blast Mobile, a $5 game from GarageGames, seems like a perfect fit for the iPhone. Like Super Monkey Ball ( ), any game where you can guide a ball by tilting should be a no-brainer. Sadly, though, Marble Blast Mobile's poorly-implemented controls render the game pretty much unplayable.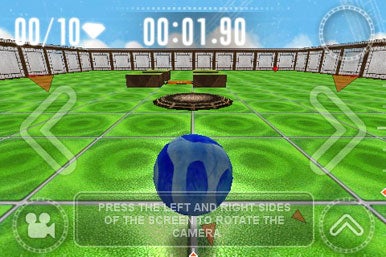 For a game where the "degree of tilt" is so important, Marble Blast Mobile smartly includes a calibration feature. But I found that I needed to recalibrate incessantly; often, after adjusting how I wanted to tilt exactly per the game's instructions, I'd find that my marble was moving in exactly the opposite direction I intended. Generally, I needed three or four attempts at seemingly identical calibrations to get things even moderately in order.
Not that it mattered much. The physics in Marble Blast Mobile are elementary at best. Acceleration and deceleration feel sloppy, so even when calibration seemed mercifully in sync for a moment, steering was still frustratingly unresponsive. The combination of controls that aren't sensitive enough and physics that aren't realistic enough makes the game very tough to enjoy.
Tellingly, the game offers an alternate control mode called Classic which enables an on-screen joystick. Classic is better than the default tilting control scheme, in the same way that a slap in the face is a slight improvement over a kick in the crotch. It's certainly preferable to tilting, but can't overcome the inherent faults of the game's physics.
Assuming you're able to get past the controls—which, as I hope you've gathered, is an unlikely assumption—Marble Blast Mobile offers considerable depth. The game includes 20 levels, which are well-designed with clever pathways, ramps, shortcuts, and the like. The game's 3-D perspective works pretty well. Some levels are pure time trials, while others require that you collect all the gems before you can move on.
Multiplayer support is implemented well; 10 separate levels can support competing against up to four other players at once. Like Marble Madness and even Marble Blast's own Xbox Live counterparts, the conceit is a fun one. Some elements of the interface, like tapping the marble to jump, or tapping elsewhere to change the camera angle, work quite well. But that's not enough to overcome the game's other weaknesses.
In addition to the lousy controls, Marble Blast Mobile is also saddled with too-frequent, too-slow "loading" screens. It's hard to squeeze in playtime if you have just two or three minutes to kill, because you'll spend the bulk of that time calibrating and loading. Disappointingly, the game is a considerable battery guzzler, to boot.
To be fair, App Store reviewers appear pretty split; half share my complaints about the controls, while the other half rave about the game. But I find other tilt-driven games on iPhone far more responsive (and thus, fun) than Marble Blast Mobile, whose control scheme is just too flakey to bother. I just can't get my marble to do my bidding with even moderate consistency, and that moves the game from challenging to simply un-fun.
Marble Blast Mobile is compatible with any iPhone or iPod touch running the iPhone 2.2.1 software update.
[ Lex Friedman loses his marbles fairly frequently.]