At a Glance
Expert's Rating
Pros
Easy to use
DayPass option adds flexibility
Configurable via web interface
Cons
No way to gauge signal strength on device itself
Our Verdict
In the 10 years since Apple employees walked down the aisles of a Macworld Expo keynote bearing AirPort-connected iBooks to the oohs and aahs of the crowd, wireless Internet has gone from being an impressive tech innovation to a necessity. Hotels, libraries, cafes and brewpubs all risk the wrath of the technically inclined if they dare not to furnish wireless access to their patrons.
And yet, more often than many of us would like, there's simply no Wi-Fi available in a place we really need it. It could be in a hotel conference room, a local lunch spot, a park, the family car, even in the middle of one of those Apple keynote events. (Yes, Apple is notorious among the journalistic set for not providing Wi-Fi at its product releases.) Sure, your cell phone might be able to get onto the Internet, but unless you've got a tethering plan—and for iPhone users in the U.S., that's not yet even an option—your laptop is out of luck.
But here comes a product that ingeniously mixes the pervasiveness of cellular data connections with the need of laptop-bearing humans to get on the Internet. Developed by Novatel Wireless and sold by several wireless providers, the MiFi 2200 looks like a bite-sized chocolate bar (3.5 by 2.3 by .4 inches) and performs the magical task of providing a Wi-Fi signal to up to five devices and routing them all through its onboard 3G cellular data connection.
Just press the button
The MiFi 2200 is about as easy to use as any tech product I've seen: You press the power button on the top and the green light goes on. Then it's on until you turn it off (or until it turns itself off after a period of inactivity). Once it's on, it's connected to the cellular network—I used a MiFi provided by Verizon Wireless—and broadcasts a Wi-Fi signal.
Flip the MiFi over and you'll see a small sticker on the back that tells you its default name ("Verizon MIFI2200 F2C4") and password (by default, a string of 11 digits). If a friend needs to get online, just pass them the MiFi and let them input the password, and they're on. Once you've logged into the MiFi from your Mac, it should remember the password. When you're connected to the MiFi 2200, you're surfing the Web, albeit at cellular-network speeds.
The MiFi is powered by a 3.7-volt Lithium Ion battery (basically the kind you'd find in a cell phone) accessible by sliding off a back panel. You can charge the battery via the included AC adapter, which attaches to a micro-USB port on the MiFi's side. Or you can use the included USB cable to power the MiFi via any laptop's USB port. Verizon and Novatel say the battery will last for about four hours if there's a single client attached via Wi-Fi.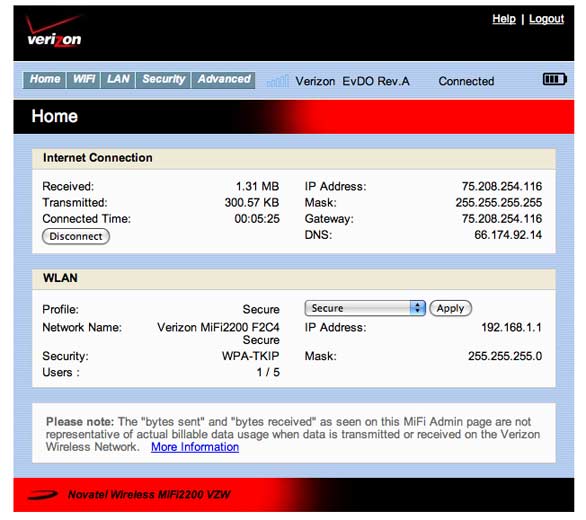 Tools for power users
Behind the turn-it-on-and-forget-it ease of use, the MiFi 2200 is a sophisticated piece of networking hardware, and it's as configurable as any Wi-Fi base station you might encounter. Via a Web interface you can give the MiFi a new SSID and password, limit access, adjust TCP/IP settings, and also get a glimpse at signal strength and battery life.
In fact, if I have any complaint about the MiFi 2200, it's that there's no way to determine how strong your wireless signal is (or how much battery life you have left) from looking at the device itself. You have to use the Web interface, which less tech-savvy people won't even know exists.
Innovative access plans
The MiFi is, at its heart, a cellular data card, albeit one that doesn't require a physical connection to a laptop. As a result, the cost of buying and using one is more in line with a cell phone than a standard piece of hardware. If you buy the MiFi from Verizon as a part of a two-year contract, it will cost you $100 after a $50 mail-in rebate. If you don't sign a contract, it'll cost $299. (Though when I looked on Amazon as I was writing this story, it appears you can actually get a no-contract model for about $219 and with a contract the device might actually be free.)
Then there are the usage costs. Verizon offers two monthly plans for the MiFi 2200. For $40 a month you get 250MB of monthly data, with a 10 cents per megabyte overage. For $60 a month you get 5GB of monthly data, with a 5 cents per megabyte overage.
Most intriguing, though, is the option of not signing a contract and instead using Verizon's "Mobile Broadband DayPass" option. If you only need access to the device a few times a year, say for special events, Verizon will charge you $15 per 24-hour access period and you'll save a lot of money on a monthly bill.
Macworld's buying advice
If you're just a single person with a laptop and a cellular phone that allows tethering, that will likely be a more economical option than investing in a MiFi 2200 and data plan. But there are many scenarios that will be much more appropriate for the MiFi, including small workgroups who need to get online in places without Wi-Fi and even families who could put their various tech gadgets to use if only there was Wi-Fi in the car. With the MiFi 2200, people who demand Wi-Fi everywhere they go can ensure they'll have it—at least, until they reach some remote area that doesn't even have cellular data service.
[Jason Snell is Macworld's editorial director.]