Barnes and Noble is the top bookseller in the United States, operating about 770 superstores across all 50 states and the District of Columbia. But the venerable chain is locked in mortal combat with Amazon.com, whose Kindle e-book reader is eating away at Barnes & Noble's customer base. Online, Amazon rules. But Barnes & Noble is making a serious play to remain relevant.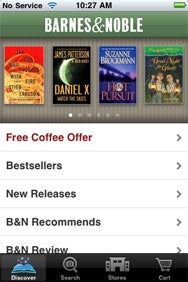 Barnes and Noble's purchase of Fictionwise earlier this year and recent launch of its e-Bookstore is part of the company's counterstrike against the House Bezos Built. The B&N Bookstore app for the iPhone and iPod touch is clearly another sally forth into Amazon territory.
The bookstore app lets you search and buy books, CDs and DVDs on your handheld. The interface is clean and easy to navigate, and the app includes recommendations and lengthy, professional reviews of new and noteworthy titles. You need a Wi-Fi, 3G, or EDGE connection for the application to function.
Naturally, users will draw an immediate comparison with Amazon Mobile ( ). B&N Bookstore isn't quite as feature rich as Amazon Mobile—but, then again, neither is Barnes & Noble's Web site. B&N lacks Amazon's sophisticated recommendation feature, for example.
That said, the Barnes & Noble way of recommending books has much to commend it. The powers-that-be pick the books they think are worth reading, and say so. Who knows? You may or may not be interested, for example, in Katherine Howe's The Physick Book of Deliverance Dane, but that's the booksellers' most recent top selection. There are lots of hidden gems out there.
Beyond the recommended books feature, however, the app lacks any meaningful browsing function—you're basically limited to looking over the products you find displayed in the front of the store. Barnes & Noble does lets you search by title, artist, and author. Unlike Amazon's app, Barnes & Noble has a (limited) auto-suggestion feature.
Read more…
Both Amazon and Barnes and Noble let you take a picture of an item and search for it. Amazon Remembers was a clever idea that lets users submit photos that the seller would then try to match with products. Barnes & Noble's photo search is a similar comparison-shopping tool. Take a picture of a book or DVD, say, and in a matter of moments, B&N will show you how much it costs.
With both apps, I wished for an option to use photos I'd already taken. I'm one of those people who goes into a bookstore, browses for an hour and makes notes about books I may want to buy later—which is precisely the sort of behavior that Amazon Remembers was designed to facilitate. But I never quite cottoned to that feature, perhaps because I was never entirely comfortable with where the photos ended up. Instead, I've generally used a note-taking app such as SophiaCom's YouNote ( ) or Readdle's Take A Note ( ) to snap a picture and type in author, publisher, and price information. Since I've employed that method much longer than I've had the Barnes & Noble app, how nice would it be if the mega-bookseller let me use those images to compare prices at its online store?
The best part of the Barnes & Noble app is the ability to order online or reserve a copy in-store. So, for example, say you read a review of a book that you find interesting. Tap the info icon at the bottom right of the screen and the app opens the product's page. Add the item to your cart or tap the "Find and Reserve In-Store" button. The app uses your handheld's geo-location features to locate the stores nearest you and tells you whether or not the book, CD or DVD you're looking for is in stock. You can then reserve the book by completing a short form, and await e-mail confirmation. Or take your chances by going to the store and tracking the item down on the shelf by yourself.
I recommend the in-store reservation feature over ordering online, at least from the mobile application. To check out, the app closes and transfers your cart to Safari, where you complete the order. If you don't already have a Barnes & Noble account, the checkout process is the usual exercise in tedium. If you do have a Barnes & Noble account, but haven't entered a credit card, the checkout process is almost as tedious. Just go to the store, already!
Barnes & Noble Bookstore is compatible with any iPhone or iPod Touch running the iPhone 2.2 software update.
[Ben Boychuk is a columnist and freelance writer in Rialto, Calif. Feel free to e-mail him.]