Editor's Note: The following article is reprinted from the Today @ PC World blog at PCWorld.com.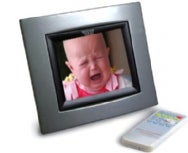 I own a digital photo frame that collects dust. In the year since I received it as a gift, I've probably used it on maybe a dozen occasions. At first I'd leave it on for a few hours before turning it off. After that, maybe an hour. Toward the end, I'd give it a few minutes, watch a quick photo slideshow, and then flip it off.
The other day I glanced at the frame and realized I hadn't turned it on in months. It's not even plugged in anymore.
Why does it stay dark? Not because it's junk. It's a sturdy Pandigital frame with a fairly good LCD display. I've loaded some great photos in it too. My favorite is a shot of my son when he was two, sitting on the kitchen floor, painting. He's covered in watercolors and smiling.
The frame has a memory card slot, and I could easily add hundreds of pics for a marathon slideshow. But I won't. I'd rather leave it off.
Here's why: Unlike a conventional photo frame, a digital display is too distracting. It demands your attention. Think of a row of television or computer screens at an electronics store. Your eye is automatically drawn toward them, whether you like it or not. A digital photo frame demands your attention. It screams "LOOK AT ME."
The only way to shut it up is to shut it off. And when it's off, I don't want it hanging on the wall with a cord snaking from its entrails, or sitting uselessly on a table or desk. It's like a conventional frame without a photo. It looks empty and weird.
Contrast this with a framed photo, which is cool and calm. You can ignore it for months and that's okay. Every now and then you glance at the photo and smile. And that's good enough. A printed image doesn't demand more.
Sales Are Falling
Anecdotally, other people have told me similar tales. Their digital frames stay dark too. To find out if there's a trend here, I contacted Parks Associates analyst Harry Wang, who tracks the digital photo frame market.
Wang, who didn't share my downbeat assessment of digital frames, passed along some interesting stats:
•· After three years (2006-2008) of explosive growth, sales of digital photo frames in North America have essentially gone flat. When we spoke, Wang hadn't yet received sales numbers for Q2 2009, but he did say the quarter didn't look too promising: "There are signs that we may have experience the first-ever year-to-year decline in terms of units sold."
•· Pandigital, one of the biggest photo frame sellers in North America, did a survey last year showing that 40-percent of digital photo frame owners don't use their frames-ever.
Forty percent-why so high? The first reason, well, let's call it the Grandparent Factor. Many folks receive digital frames as gifts. They "often don't have a clear understanding of the features and functionality" of the product, Wang says. They "perceive it to have a low value."
Second reason: The frames are often hard to use, particularly for people who don't know much about PCs, digital cameras, memory cards, and Wi-Fi. Because one way or another, you have to get the photos from a PC or camera to the frame.
Unlike me, Wang sees value in the digital frame. "You may turn it on whenever you want to look at your memories, your past," he says. He compares the product to other tech gadgets that people may use infrequently, such as MP3 players and GPS devices. Each is useful, even if it's turned off most of the time.
A valid point. But unlike handheld gadgets, a digital frame is designed to occupy a high-profile space: A living room wall, a coffee table, an office desk. When it's dark, it's just taking up space.
To be fair, some of the newer digital photo frames double as clocks or calendars when not showing photos. That's one clever one solution to the dark-frame issue.
In fact, multiuse functionality could revive lagging sales of digital frames. A device that does triple duty as a photo viewer, television, and Web tablet might be interesting.
But until then, I'll pass.
Contact Jeff Bertolucci via Twitter (@jbertolucci ) or at jbertolucci.blogspot.com .