Warhammer Online: Age of Reckoning is now available for the Mac. The game is expected to be released this fall, although Mac gamers can download a beta version now.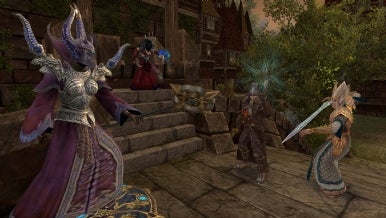 Based on the legendary fantasy-themed tabletop war game, Warhammer Online: Age of Reckoning (WAR) is a massively multiplayer online game originally developed by Mythic Entertainment and published by Electronic Arts (EA) for the PC in September, 2008. Like other recent EA Mac titles, Warhammer Online works by way of TransGaming's Cider translation technology, which works on Intel-based Macs only.
Described as a "Realm vs. Realm" (RvR) game, Warhammer Online pits players against each other in massive online battles. Players can participate in public quests with other players, and unlock Warhammer lore, detailed monster information, new abilities and rewards, and even major story plotlines using the Tome of Knowledge.
The Mac beta of Warhammer Online is available to new players and existing players alike; people who have a PC or Boot Camp partition that they already use to play WAR with can download the Mac client and start playing the game on the Mac right away; new users can download a 10-day trial version for free and kick the tires before jumping in. Mac users will coexist on the same servers as their Windows-using counterparts.
Mac users will also receive exclusive WAR Mac titles "I'm an Order" or "I'm a Destruction" as well as an exclusive in-game trophy: the iPomme.
System requirements for the Mac version of WAR call for Mac OS X 10.5.3 or later, Intel Core Duo processor, 2GB RAM, ATI X1600 or Nvidia 7300 GT with 128MB VRAM or more, 15GB hard disk space.