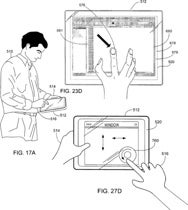 Can it be? Is the device we already started saving up an undetermined amount of money to buy because we don't even know how much it costs yet dead on before arrival?! Or is it coming to CES with Apple? And an iPhone bug lets the Macalope ride one of his favorite hobby horses: Apple and security.
Only the good die before being young
Sad news today, folks. You know that tablet device that's totally for sure coming in the fall 2010 October? Well, the horny one hates to be the bearer of bad tidings but, it's a failure (tip o' the antlers to Daring Fireball). Oh, Apple tablet. We hardly knew ye.
Well, actually, we didn't know ye at all. Because ye hasn't even been announced or leaked in any detail. So what's this about ye being a failure again?
Well, this, simply put, is sensationalist technology punditry at its worst. PC World's Michael Scalisi is trying to have his cake and smear it all over his face like a two-year-old too.
Sensationalist headline?
Rumored Apple Tablet Is a Train Wreck
Check.
Weaselly escape clause?
If Apple does release a device that resembles the rumored tablet, it will need some killer twist that nobody saw coming. It wouldn't be the first time Apple pulled something like that off.
Check. Now when Apple comes out with something good, Scalisi can point to that sentence and say "See? I was right!"
Scalisi, of course, has no idea what Apple's going to introduce. What he means to say is that, to date, tablets have failed miserably for these reasons and Apple will need to resolve these issues if it wants to be successful where others have not been. Only that doesn't drive as many hits as "APPLE TABLET DOOOOOOMED!" so here we are.
Sigh.
Read more…
CE yeS?
Speaking of sensationalism, that sensationalist rag known as The Wall Street Journal reported this week that Apple, having given Macworld Expo the long kiss goodbye, will instead be attending CES, the giant consumer trade show in the little town of Las Vegas (also known as "Vegas" and sometimes even "Vega$").
Well, not so fast, there, you supermarket checkout aisle, bat-boy-covering tawdry tabloid. See, Engadget's Ryan Block was at the same elbow-rubbing event the Wall Street Journal's Ben Charny was at and says what dinner were you at, Skippy?
Sure, if Jobs wants to go and keynote, CES would happily give the boot to whatever second-rate CEO from your Sonys, your Nintendos, your Microsofts they had already lined up and he could make a big splash. But to date all signs have been pointing to him stepping more behind the green curtain and operating the levers instead of appearing as a fiery disembodied head.
And the pointy one—who never gets invited to these journalist dinners—doesn't see what Apple as a company really gets out of attending. He's said since December that Apple can have a horde of press vans lined up on de Anza Blvd just by clearing its throat, sighing heavily, or scratching itself, so why attend these trade shows where they have to compete with other vendors for oxygen?
In this economy, stay home and read a nice book, Apple. Let those other clowns throw their cash away on tickets to see Celine Dion at Caesars Palace.
Actually, that's good advice in any economy.
iPhone bugaboo
Just like what happened in Vegas, we stay in Vegas, which today is the scene of the annual Black Hat security conference, featuring the unveiling of an iPhone bug that allows an attacker to take over your phone via a sequence of text messages.
It's also the scene of a lot of topless dancing if iPhone bugs are not your thing.
But back to the bug. Thoughts on this range from big whoop to I shall use this as an excuse to jam as many falsehoods into one piece as I am physically able.
Despite the large number of dillweeds who will try to make hay with this, Apple better be quick with the patchin', because the iPhone is not the Mac. The iPhone is all the rage, if you haven't noticed, and that fame makes it a more tempting target. The proliferation of apps on the phone that may contain sensitive data as well as the arguably less-sophisticated user community don't help either.
Security gives the Macalope the heebie-jeebies because he's never gotten the sense that Apple's taken it as seriously as it should. The brown and furry one has no desire to see the iPhone or Apple's name besmirched by someone with a handle like Sir-HAX-Alot. That would just be embarrassing.