As one of the major Internet and cable television providers in the United States, Comcast has a lot of customers—many of them who also have iPhones and iPod touches . The Comcast mobile App is a handy app to have if you heavily rely on Comcast e-mail and Digital Voice services.
As I explained in my first look at the Comcast mobile App, the software lets you access your Comcast e-mail, manage your Digital Voice account, peruse Comcast's TV listings, and watch trailers for movies on Comcast On-Demand.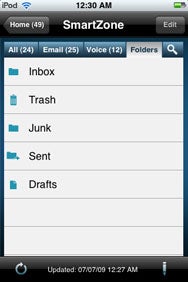 The App's SmartZone Inbox is a nicely designed unified inbox for your Comcast.net e-mail and voicemail messages. You can peruse separate inboxes for e-mail and voicemail by simply pressing on the on-screen tabs. Unfortunately, the SmartZone Inbox is for Comcast messages only; you can't access other e-mail account you may have, like Gmail, Yahoo, or your own domain. You'll still need to use the iPhone's Mail app for those accounts. (The built-in Mail app can still access your Comcast.net e-mail.)
The Digital Voice message access is especially helpful for when you want to access your voicemail remotely. To listen to a voicemail, just tap it. You can also returns calls made to your Digital Voice account (the calls use your iPhone account). But there's no way to forward a voicemail message to someone via e-mail, a nice feature that's available if you log into your Comcast.net account through a Web browser.
The Comcast mobile App's Address Book plugs into the iPhone's Contacts, making the Comcast Address Book seem redundant. If you use a Comcast.net address book online, the contacts in your Comcast mobile App sync with the online address book. You can also use Plaxo to sync your contact databases between your Mac's Address Book and your Comcast.net account.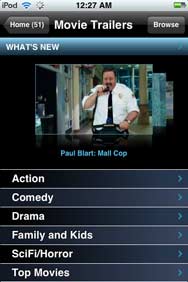 Comcast includes two features in the app that cable television customers will find limited use for. The Guide, provides TV listings, but there's currently no interoperability with Comcast digital video recorders, so you can't, for example, set your DVR at home to record a show remotely or over your local area network. The other feature, On Demand, lets you watch movie trailers of films available in Comcast's On Demand service—you don't actually get to watch On Demand full-length movies or TV shows on your iPhone.
With its limitations, the Comcast mobile App is best suited for Comcast customers whose daily duties require constant access to their Comcast.net e-mail and Digital Voice message. TV customers won't find much practical use for The Guide and On Demand features, though Comcast says they hope to add more TV functionality in the future.
Comcast mobile App is compatible with any iPhone or iPod touch running the iPhone 2.1 software update.
[Roman Loyola is a Macworld senior editor.]