Hog Bay Software on Thursday released WriteRoom 2.0 for iPhone, an update to its $5 iPhone note-taking utility that adds improved web-syncing features.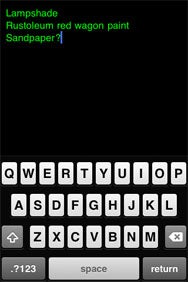 Powered by Google's App Engine technology, the new writeroom.ws Web site syncs your documents with the WriteRoom iPhone app automatically. You log into writeroom.ws with your Google account, on both the Web and on the iPhone, and then you have access to your notes from either location. The program syncs with the Web service, merging changes to ensure no data loss.
In addition to sharing features, WriteRoom 2.0 for iPhone also provides a new "full-screen mode," inspired by the full-screen editing experience of the Mac version of WriteRoom. On the iPhone, what this means is that if you put two fingers on your screen and spread them, instead of zooming in, WriteRoom makes the document's title bar and the iPhone's status bar vanish. (You'll still need to use the on-screen keyboard to type things in, though.)
WriteRoom 2.0 requires the iPhone 3.0 software update and is compatible with iPhone and iPod touch.
Note: When you purchase something after clicking links in our articles, we may earn a small commission. Read our affiliate link policy for more details.