A Chinese news Web site has posted pictures that it claims show the iPhone model being tested for release in China, adding to expectations that the phone will launch there soon.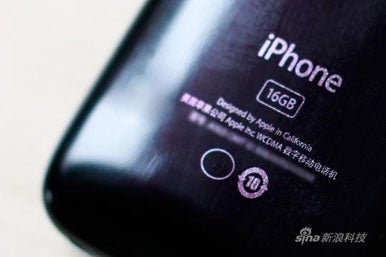 The pictures were posted on Chinese portal Sina.com.cn on Friday morning and showed an iPhone with simplified Chinese characters in its display and inscribed on the back of the handset. Simplified characters are used in mainland China and Singapore, but Singaporean iPhones don't have Chinese inscription on the case. (Hong Kong and Taiwan use more complex traditional characters)
The iPhone in the pictures also carries China's "Environmental Protection Use Period" mark, which indicates the number of years of normal operation during which hazardous or toxic substances included in the product will not leak or change in a way that harms the environment or human health. In the case of the iPhone pictured that length of time is 10 years.
Sina.com.cn later replaced the pictures with a single one that had most of the phone's rear inscription obscured.
Apple has held months of talks with China Unicom, one of the country's state-owned mobile carriers, on offering the iPhone in China. In a sign that the two could be approaching a deal, Apple this month submitted an iPhone to Chinese regulatory authorities for tests to obtain a network access license, according to analysts.
Read more…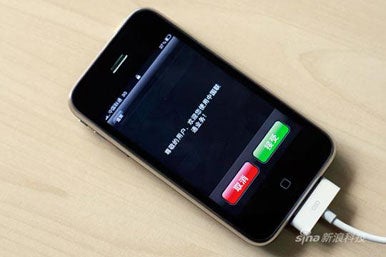 The iPhone in the Sina pictures had "China Unicom 3G" displayed beside the signal strength meter on its screen. The back of the handset was inscribed with the letters WCDMA (Wideband Code Division Multiple Access), the 3G standard being promoted by China Unicom.
A China Unicom spokeswoman said the company is still in talks with Apple but has not reached any formal agreement on the iPhone. An Apple spokeswoman declined to comment.
Apple said in April that it hoped to start iPhone sales in China within the next year.
China Unicom may launch the iPhone at the end of September to coincide with the expansion of its 3G coverage to 280 cities, investment bank China International Capital Corporation said in a research note this month.
"There is essentially no longer any doubt about the introduction of the iPhone," the report said.
The iPhone is already very popular among fashion-conscious urban Chinese, who bring the handsets back from abroad or buy smuggled or fake versions at local electronics markets.