In Bed Bugs from Igloo Games, your mission is to keep the bed bugs from disturbing your sleepwalking character. Essentially, all you have to do is squash the little pests before they are able to reach their victim and rouse him from his slumber—resulting in the end of the game.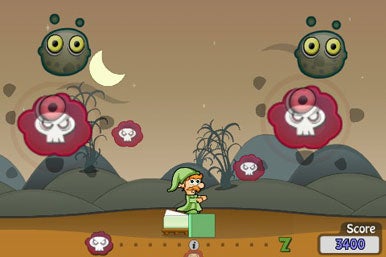 Sounds easy enough, right? Well, things soon get quite hectic in the $2 game, and you'll find yourself wishing you had a few extra fingers.
In Bed Bugs' first level, all it takes to dispatch of a bug is a quick tap. That got me thinking that this game was going to be way too easy. But each new level brings new bugs requiring you to figure out how to squash them.
For instance, you may have to contend with bugs that you have to tap and hold until they blow up or beasties that change color before you can smash them. I don't want to reveal too many of the other bugs, because figuring out how to smash them is half the game's fun. With all the different types of bugs requiring different methods and timing, Bed Bugs proves to be quite challenging.
The cartoon style of the graphics are perfect and the music and sound effects are really nice as well. There are 28 levels in all, including four bonus rounds where you keep smashing bugs until your sleepwaker wakes up.
There's not a lot of replay value in Bed Bugs that I can see. But for $2, it's a fun way to pass the time.
Bed Bugs is compatible with any iPhone or iPod touch running the iPhone 2.2.1 software update.
[Tim Mercer is a technology enthusiast, graphic designer, and blogger, whose blog, digital-artist-toolbox.com, offers free resources to the digital artist and graphic designer.]