At a Glance
Expert's Rating
Pros
Features many varieties of painting styles to choose from
Output can be tailored to your exact specifications
Works quickly
New ways to preserve detail in faces
Handy panel saves mouse clicks
New photorealistic settings
Our Verdict
Some photographs would really look better as paintings. But for those who are not artistically inclined with a brush and palette, there's Alien Skin's Snap Art 2. This Photoshop plug-in is a one-click wonder that promises to instantly transform a mundane (or even great) photo into a unique work of art.
The program uses sophisticated algorithms to simulate a massive array of brush strokes that turn your picture from, say, a humdrum landscape to a pictorial representation of that composition—a variation both unique and eye-catching.
Why not simply use Photoshop's filter library for such a task? Because it does not have nearly enough filters to create the range of effects that resides in the mind's eye. I generally use the Photoshop ( ) filter library for inspiration, to give me an idea of what I can or might want to do with a picture, and, after that, I find a filter that can really handle the job.
Snap Art's plug-in modules consist of 10 natural media: oil paint, watercolor, pencil sketch, color pencil, Pen and Ink, Stylize, Comics, Impasto, Pastel, and Pointillism. Within those categories are a multitude of pre-set variations (over 700 in all) that will likely be enough to satisfy most artistic whims. But if they don't, you can always create your own unique pre-sets that give you exactly the effect you want for each photo. There are literally an infinite number of combinations.
Installation and use
Like most Photoshop plug-ins, Snap art can be installed with a variety of Photoshop-compatible programs, including the two most recent versions of Photoshop, as well as with Elements ( ), or Fireworks CS4 ( ) .
Immeasurably convenient is the CS4 panel that you can download from Alien Skin's Web site. While most plug-ins shut down after every use or canceled command (this one does too), having the panel visible and accessible or docked as part of an existing panel group saves you from the tedious chore of having to launch the plug-in from the Filter menu every time you want to try a new effect. This saves a lot of mouse clicks. You can preview your images in various sizes once they open in the plug-in: a fit in window size up to 1:1, which enlarges it to show actual pixels. You can adjust the plug-in window opening to have as large a working area as your monitor will accommodate.
Updates
One problem with converting photos to paintings is that often the real image is lost in a sea of simulated brush strokes that represent, but do not depict, the actual picture you took; this is especially true for portraits. Snap Art 2 now has a couple of ways to mitigate this loss of realism. In this version, most of the filters have photo realistic pre-sets that stylize and soften the picture without rendering it unrecognizable. So for example, in the Watercolor category (and several other categories), there are four types of filters: Abstract (low realism), Landscape (moderate realism), Portrait (most realism), and Vignette and Canvas, which vignettes the picture (fading out the edges) and offers simulations of the image on different types of paper. Then, within each of those settings, there are tabs with multiple sliders that let you adjust major aspects of the picture with variations of large, medium, and small strokes. Within the Watercolor category for example, the tabs are Settings, Basic, Colors, Canvas, and Lighting, each with numerous additional choices and sliders that let you adjust your picture further. With that degree of choice, there are an infinite number of options available to the photographer's artistic eye.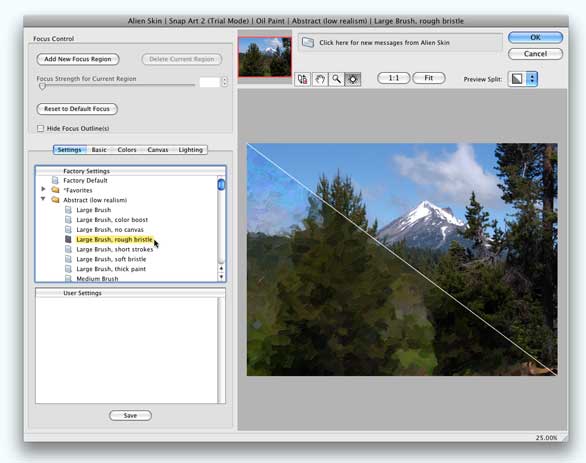 Snap Art 2's new focus control lets you shield parts of your image from extreme paint distortion. This is mostly useful when you're making a portrait into a painting, so that the face, for example, stays fairly recognizable while the rest of the picture is more pictorial. The focus region, which you can set with the Add New Focus Region button, consists of two ovals, both of which are adjustable. You can apply as many focus regions as you want to a photo, or you can use the selection tool in conjunction with the focus region to change the shape of the region to accommodate different parts of the image.
The main window has both operational and analytical tools: a revert button lets you quickly see the original picture; a grabber hand tool lets you move a large picture around the preview window; a Zoom tool lets you enlarge or shrink the image; and Adjustment Tool lets you adjust the focus region, if you have one. The 1:1 button zooms the image to its actual size in pixels while the Fit button gets the entire picture into the preview window. The pull-down Preview Split menu gives you various perspectives on your image. You can view it entirely as a painting, or divide it horizontally, vertically, or diagonally to view the program's painterly effects. A handy Preview All Filters Gallery gives you an idea of how your picture will look in each of the 10 filters.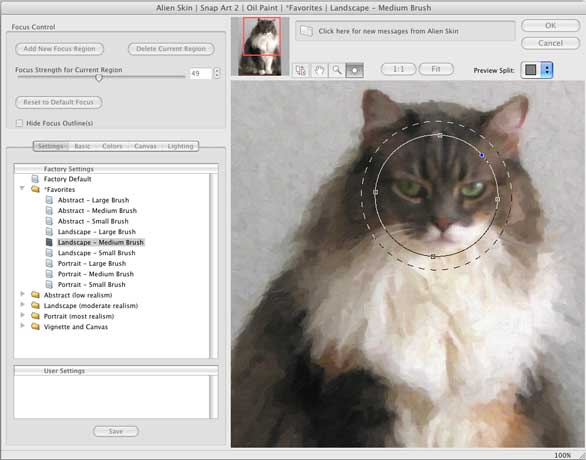 Snap Art performed well, which is to say that it made relatively quick work of its filtering job without crashing. I'm using Snap Art on a relatively high-level workstation—a Mac Pro with lots of RAM. That configuration gives the program lots of muscle so users will spend relatively little time watching a progress bar. Alien Skin notes that this version of Snap Art has been optimized for multi core processors so its performance has improved from the last version.
Macworld's buying advice
No one pretends that using Snap Art will replace the artistry of folks who labor over each brush stroke, but any level of photographer who yearns for a more painterly representation of their images, can easily recruit Snap Art 2 for the task. It's easy to use and works very well. What more can you ask?
[Jackie Dove is a Macworld senior editor.]