Delicious is a mighty fine Web-based social bookmarking service. But like many of these shiny web 2.0 outfits, it's desktop clients like Pukka that give Delicious some useful spit and polish. Thanks to an unassuming version 1.8 update, Pukka has finally become a complete and powerful two-way Delicious client with a streamlined, unobtrusive interface.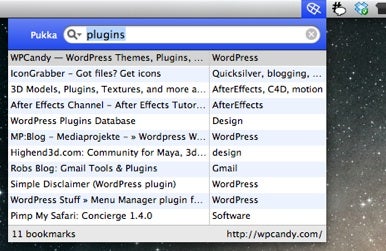 Pukka 1.8's biggest new feature is search. For some time, Pukka has allowed access to all of your bookmarks and tags from its menbar item (making it quite trivial to switch between default browsers since Pukka obeys that preference). Now, the menu bar item serves as a search box, allowing you to search any field across your entire collection, including title, tags, URL, and description. You can even focus your search on any of those attributes if you need help tracking down a link. In addition, you can set a system-wide keyboard shortcut if you need to search often and quickly. If you still want to browse—not search—your Delicious bookmarks, right-click Pukka's Dock icon.
The other major new feature is full support for AppleScript. This means power users can bend Pukka to their whim and access their entire Delicious bookmark library. Perhaps more importantly, third-party developers can integrate Pukka and your bookmarks into their applications, which presents opportunities for some interesting workflows. For example, file organization apps like Evernote, Yojimbo, and Together could gain features for importing all of your Delicious bookmarks via Pukka, or just a selection, based on specific tags or URLs.
A few other minor enhancements round out this not-so-tiny update. You can now reorder accounts if you use more than one and set a specific account as the default. Finally, Pukka's posting window now automatically resizes for those who use the Description field for all it's worth.
Pukka 1.8 is a free update for registered owners, and a demo is available for those who need a little more flavor out of Delicious. At least Mac OS X 10.4 is required, and a license costs $17.