Ouch!, a $3 app from Hondune Games with a free lite counterpart, falls under the "ragdoll physics" genre. Through nearly 50 obstacle-laden levels, your mission is to inflict as much pain as you can upon your poor character in the time allotted.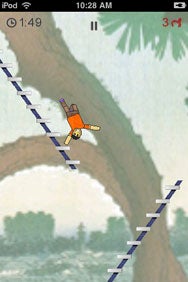 You control the action in three main ways: The first and most prominent method is simply tilting; by turning the iPhone from side to side, you affect the ragdoll's gravity, letting you guide it directly into harm's way. Some levels also grant you a finite number of "nudges," which allow you to nudge the character to get it moving again when needed. And finally, many levels sport interactive obstacles—oversized pinball flippers, cannons, and the like—which you can trigger to cause maximum ragdoll injury.
The game scores points for customization: You can create your own character, even using a photo as the character's head. And there's a an impressively full-featured level editor (which the developer claims was actually used to create each level within the game itself). Building your own mayhem-filled levels to wreak agony upon your character is at least as fun as the rest of the game, and is Ouch!'s best feature. You can share your custom levels with friends, and even download new community-created levels from within the app.
The free version includes just 10 levels, and lacks the stellar level editor, which is where most of Ouch!'s value really is. Whet your ragdoll-punishing appetite with Ouch! Lite, but you'll be missing the most fun part of the Ouch! experience until you buy the main version of the game.
Both versions of Ouch! are compatible with any iPhone or iPod touch running the iPhone 2.2 software update.
[ Lex Friedman is delighted that he is not a ragdoll.]