I admit that I'm one of those nerds who looks back at Apple's Newton project with misty eyes. I own two Newton MessagePads—a 130 and a 2100—which have been sitting in my Geek Hall of Fame (i.e. a dusty shelf in a jam packed closet) for many years.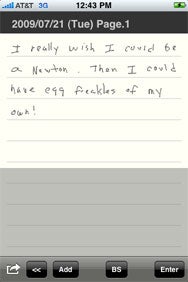 When I learned of Hirogram's SpeedText—an app which lets you take notes by writing on your iPhone's screen—I immediately thought of the Newton. So I donned my propeller beanie and put a SpeedText-equipped iPhone in a head-to-head showdown with a Newton. Here are my entirely unscientific (and somewhat jaded) results:
Read more…
Size
No question, the iPhone-SpeedText combo wins hands down. When stacked against an iPhone, even the smaller Newton MP130 model is a brick. Back in the day, lugging one of these behemoths to a meeting wasn't a big deal, but no sane person would have carried one around in his/her pocket as you can today with the iPhone.
Text quality
Here's one area where the Newton is a clear winner. Despite all the heckling it received, the Newton's handwriting recognition was quite good, and, arguably, still rivals anything available today.
Then again, SpeedText doesn't do handwriting recognition at all. The "text" you write is no more than a series of graphic images. And that's the app's biggest drawback—you can't edit what you've written beyond deleting and rewriting entire words. SpeedText also reproduces exactly what you trace on the screen, so if you don't write straight, or if you have poor handwriting, you probably won't be satisfied with the results you get.
Ease of use
This one's a tough call. With some practice, entering text on the Newton is very easy since you can write anywhere on its large screen, and in any direction, and it appears positioned and aligned properly. In comparison, SpeedText confines your writing to a small area at the bottom of the iPhone's screen. Even after adjusting for maximum spacing, this feels cramped, even with the screen rotated on its side. If you have large fingers, this may be a deal breaker. Despite these limitations, taking short, simple notes seems fairly easy, and it works well enough for me most of the time.
Overall, the Newton kicked SpeedText to the curb, but I still concede the match to the iPhone. The Newton is considered a failure, but it started a revolution that paved the way for future innovative devices like the iPhone. While the iPhone currently lacks handwriting recognition, we can always hope that it will appear someday.
So yes—SpeedText doesn't approach the nerdy-coolness of the Newton. Then again, most people don't have a Newton lying around the back of their closet. In that case then, the app is a solid note-taker, particularly if you'd prefer scribbling to the built-in keyboard of the iPhone or iPod touch and so long as your note needs remain simple. SpeedText can certainly handle simple notes—at least until something better comes along.
SpeedText is compatible with the iPhone or iPod touch running the iPhone 2.2.1 software update or later.
[Brian Beam is web developer and partner with BOLD Internet Solutions, living somewhere near Kansas City.]
Editor's Note: We have updated the pricing listed in this review, as SpeedText has gone back to its price of $2 since we published this article.