The following article is reprinted from the Today@PC World blog at PCWorld.com.
Google will use billboard advertising to promote Google Apps, the compan's enterprise productivity suite. Google will use giant billboards in four U.S. cities to encourage business users to consider using the Google Apps package.
From Monday, commuters in New York, San Francisco, Chicago and Boston will see a different message promoting Google Apps each weekday throughout August. Called "Going Google," the campaign targets IT managers stuck in traffic and informs on the benefits of switching to Google Apps.
Google introduced the Apps enterprise suite in 2007 and the company says over 1.75 million customers are now using it. But the undisputed king of online advertising is now turning a leaf from the more traditional marketing books with billboard advertising. Google said it doesn't plan to advertise in other print or broadcast media for now.
In aid of the campaign, the company also launched a Google Apps "Spread the Word" site, which offers promotional materials for enthusiasts such as posters, fact sheets and weekly giveaways. Next to that, a Twitter account has been created for the campaign (@GoogleAtWork) and a matching hashtag (#gonegoogle).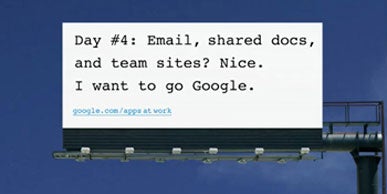 In the past, Google used sparingly traditional ads, a more recent example being the Google Chrome TV spots. But the new campaign for Google Apps can be widely seen as a direct stab at Microsoft's productivity and e-mail offerings, explaining the benefits of using cloud-computing solutions. Microsoft is also planning to launch Office Web Applications, free of charge, together with the 2010 of its desktop productivity suite.
Here's a video preview from Google, showing how the billboard ads will look like throughout the campaign.