Pangea Software—long time Mac (and iPhone) game developer—has announced the release of The Finger, a new 3D animation app for the iPhone and iPod touch. It costs $1.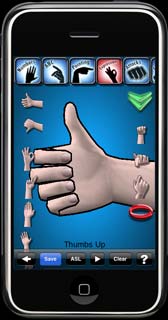 The Finger dispalys an animated 3D hand that can form and display hand signs. The app includes more than 90 built-in hand gestures along with an animation editor that lets you build you own expressions. You can use the animation editor to move the fingers, thumb and wrist to create thousands of different expressions.
The software can also translate text into Signed Exact English (our caveat for novice sign language fans: This is not the same as strict American Sign Language). Users enter text using an on-screen keyboard and the 3D hand then finger-spells the word, phrase or sentence using characters from the signed alphabet.
System requirements call for iPhone OS 2.2.1 or later.
In related news, Pangea has also recently released a free "Lite" demo version of its 3D platform action game Otto Matic.