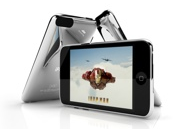 Are iPods exploding all over the place? According to the Times Online, an iPod touch belonging to 11 year-old Ellie Stanborough of Liverpool, England, started hissing and emitting vapor before an explosion sent it flying ten feet into the air. When Ellie's father, Ken, contacted Apple to ask for a refund, the company agreed, though reputedly on the condition that the Stanboroughs agreed to not talk about the incident.
That didn't sit well with Ken Stanborough, who declined to sign the agreement and subsequently talked to the Times:
"They're putting a life sentence on myself, my daughter and Ellie's mum, not to say anything to anyone. If we inadvertently did say anything, no matter what, they would take litigation against us. I thought that was absolutely appalling."
Apple, meanwhile, disputes the claim, telling British news service Sky News that the letter in question was a standard settlement agreement. It also said that Stanborough refused to send the iPod back to Apple for investigation.
This isn't the first time that an iPod has supposedly met with a fiery fate; like many electronic devices, the iPod uses a lithium-ion battery, a technology which can present a risk of fire, especially if the battery is damaged. In 2006, a number of laptop vendors, including Dell and Hitachi, recalled batteries manufactured by electronics giant Sony, which were known to be susceptible to overheating. Apple itself has issued battery recalls several times in the past, most notably in 1995 with the infamous PowerBook 5300 series, but also in more recent years.
In 2008, the government of Japan asked Apple to investigate a sparking iPod nano; Apple attributed the problem to faulty batteries. A recent investigation by Seattle news station KIRO revealed 800 pages of information on iPod fire mishaps documented by the Consumer Product Safety Commission, though it only listed 15 distinct incidents. In March of this year, an Ohio woman filed suit against Apple claiming that her son's iPod touch exploded in his pants.
Of course, part of the reason that the iPod is so prominent in this kind of case is its overwhelming popularity: the device is almost eight years old, and Apple's sold more than 150 million iPods in the last two years alone. Even a single batch of flawed batteries could have huge repercussions. In addition, the trend towards miniaturization of devices means that electronics manufacturers and battery makers are trying to pack more and more power into smaller spaces.
Any electronic device is imperfect and subject to problems; that doesn't mean Apple doesn't need to hold its suppliers to high manufacturing standards. But it isn't surprising that Apple wants to keep a lid on the negative PR that can come out of a situation like this—no manufacturer would be thrilled to say its products catch on fire, even if it's a one-in-a-million occurrence. It's also likely that the company investigates such claims to try and figure out the root cause of the problem and, if necessary, issue recalls. It's most certainly not a good situation, but the other alternative leads to panic and accusations, which are usually counterproductive.
Long-term, the solution may be to move away from lithium-ion batteries as power sources. That's an expensive proposition and one that requires a large investment into research and development, especially since it's been the predominant battery technology for consumer electronics devices for over a decade. Apple's certainly put a lot of work into battery technology for its most recent line of laptops, and while it understandably doesn't say anything about reduced fire or explosion risk, one would hope that's part of the package.