Despite the many complaints about the App Store from developers, consumers, and even loudmouth writers like yours truly, it does have its upsides. For one thing, it's easy to know where to go when you're looking for an iPhone app, something that's often been problematic for Mac users. However, the developers at IDFusion Software and Centrix.ca are aiming to fill that gap on the desktop side with their new program Bodega.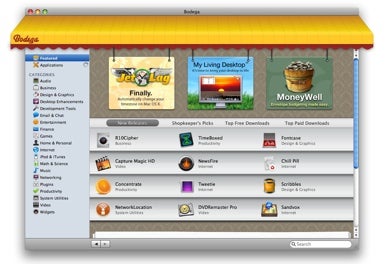 The free Bodega aims to take the good parts of the App Store—the centralized clearing house approach, easy update tracking—to help make it easier for Mac users to find the applications they need. And the program looks decidedly App Store-like, with featured applications, lists of the top free and paid downloads, and even "Shopkeeper's Picks."
You can browse by category or search for the app you want. Each application's page consists of a description, screenshots, reviews by users, and—unlike the App Store—links to press clips about that software, if applicable. There are buttons for downloading or buying the application or visiting the developer's Web site. Unlike Apple, Bodega doesn't host the applications or take a 30 percent cut of the price—you buy directly from the developers. Once you've bought an app, Bodega can keep track of all your license codes, so you don't have to dig around and find them should you need to reinstall.
Despite its premise—and its promise—Bodega's still got some rough edges. I ran into some glitches: a few times Bodega even displayed a cute but un-helpful "Sorry, we're closed!" message when I started it up. Also a feature that was supposed to scan my hard drive and display my installed apps kept chugging away but never displayed anything.
At the moment, Bodega's catalog is still limited—most categories only had a few apps—but the developers say that it will continue to expand; software makers can add their apps to Bodega for free. At present, it also seems to focus on smaller Mac apps, unlike major programs like, say, Adobe Creative Suite or Microsoft Office.
It's an intriguing concept, and it will certainly be interesting to see if it catches on. On the one-hand, riding the coat tails of the App Store's success is probably helpful, on the other hand, there's always the chicken-and-egg problem to overcome: how do people find out about Bodega in the first place?