At a Glance
Expert's Rating
Pros
Time tracking on specific client-associated documents
Client-based time and expense tracking
Well designed and thoughtful integration between clients, projects, and billable events
ICal synchronization
Flexible billing options
Cons
Inconsistent iCal synchronization
Occasional interface glitches
Weak template design tools
Our Verdict
iBiz 4.0.1 is a billing and time management application that helps track the work you do, lets you bill clients for completed work, and then tracks payments so you get paid for the work you do.
The iBiz interface is quite similar in organization and structure to Billings ( ), another time management and invoicing program, but differs in that it takes a client- rather than a project-based approach to managing your work. After an initial setup process, iBiz opens to a main window with four sections. These four panes contain clients, projects associated with clients, job events associated with projects, and to dos associated with your clients, but not necessarily linked to a specific project or job event.
To use iBiz you first have to add clients, which is one of the steps in the initial setup process. iBiz stores your client information in an iBiz group in OS X's Address Book app, so while you can create new clients within iBiz, you have to manage those clients using Address Book. This has become a common practice with many programs in this genre, but it's not a practice that I'm fond of as I prefer, in obsessive compulsive fashion, to keep my business contacts stored in my business accounting application and separate from my personal contacts. But, personal preferences aside, it does make sense to keep contacts in Address Book, especially when it comes time to e-mail clients or find them using Spotlight.
Once you've created your iBiz client list you can start creating projects and job events. Job events are items that you use to track your time and eventually bill your clients. Projects in iBiz are essentially an umbrella for all of your job events. So, if you lay tile for a living, you'd select a client, create a new project for that client, such as Master Bedroom Bath, then create associated job events such as time worked, materials purchased, and travel expenses. To make this process easier iBiz lets you group Job Events so you can collect materials purchased like tile, grout, and tile sealer under a single heading. iBiz also lets you designate a flat or per piece reimbursement rate for items like tile and grout or charge a per mile rate for travel. You can also add a markup percentage to anything you bill for.
iBiz also includes a handy tool for tracking the time you spend on documents you may work on during the course of a billable project. So, if you charge for the initial design on a tile project, and you use a program on your computer to create that design, you can use iBiz's Document Monitor to track every minute you work on that design document. You can even mark any job events you create as non-billable so that they appear on invoices but without your clients getting charged for them. Due dates for projects can also be easily added to iCal and updated via Apple sync services any time you make a change either in iBiz or iCal.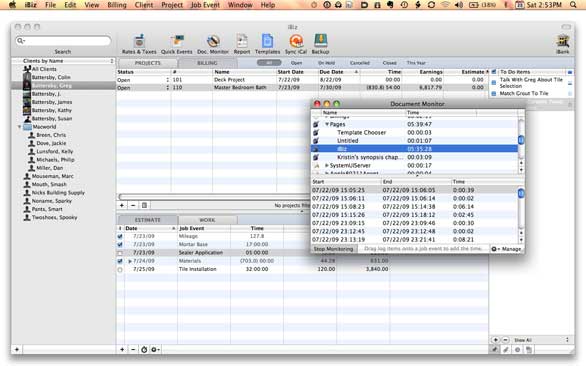 New tools
For invoicing and reports, iBiz sports a new report creation tool and 15 professionally designed report and invoice templates. These are certainly enough to get you up and running, but nowhere near as sophisticated or of as high quality as what's offered with Billings. Further—and this is a complaint I have with every business tracking application—creating your own templates can be a real hassle. iBiz is no better or worse than similar applications of this type at template creation and editing, but I'm dying for a program that offers real page layout tools, like drag and drop field placement and alignment tools, and plain English documentation on what cryptic internal field names. In short, you can create your own reports and invoice templates with iBiz, but you'll have to spend some time figuring out the terminology, you'll be stuck with tab-and-space field alignment, and you'll need to learn some HTML to create slick looking reports, invoices, and statements.
Unfortunately, iBiz has some issues in syncing with iCal ( ), and I ran into the following scenario: At first, iCal synching worked fine, but subsequent updates worked incorrectly. For example, changing a Project in iBiz from one iCal calendar to another resulted in duplicate entries in iCal and changing the date of a Job Event in iCal wasn't reflected in iBiz after syncing. IGG Software is checking into this issue. I also had consistent problems with new invoices displaying a zero balance owed for items that actually had balances. It turns out that the zero balance resulted from my checking a box that I mistakenly thought indicated the job was complete. While technically this was my mistake, it was caused by poor interface design. That check box actually means that the job had already been invoiced, but there was no clear indication anywhere that I had marked these jobs as invoiced.
Macworld's buying advice
iBiz 4.0.1 offers very good, client-focused tools for tracking and billing the time you spend on your projects. The program is flexible, allowing you to bill not only for time spent, but per item, for mileage, or at a flat rate. While iBiz doesn't offer the broad range of templates built into programs like Billings, what it does offer is sufficient to get your information to clients and start you down the road to getting the money you've earned into the bank.
[ Jeffery Battersby is a (very) small-time actor, IT manager, and regular contributor to Macworld.]