At a Glance
Expert's Rating
Pros
Easy to use
Impressively extensible
Superb, thoughtful privacy features
Cons
Not a huge improvement on its predecessor
Speed boost claims don't tell the whole story
Our Verdict
After the great leap forward in speed, design, and overall polish that Mozilla's open source Firefox Web browser enjoyed in version 3.0 ( ), it's probably understandable that version 3.5 represents a more modest advancement.
While it doesn't stand out dramatically from its predecessor, the new version does bring Firefox closer to the cutting edge of Web standards, and offers a handful of clever innovations in privacy that its rivals would do well to steal for themselves. But the browser's much-ballyhooed claims of a big speed boost aren't all they're cracked up to be.
Benchmarking the beast
On its Web site, Mozilla touts version 3.5 as "the fastest Firefox ever." But that claim refers solely to its new TraceMonkey JavaScript engine, which handles many of the Web's interactive elements, but not the fundamental rendering of HTML code. Its assertion that Firefox 3.5 is more than twice as fast as its predecessor here is true–but Mozilla doesn't elaborate on how the new version compares to rivals. And while its JavaScript performance has definitely improved from 3.0, Firefox 3.5's speed in other areas actually seems to have decreased.
Mozilla bases its speed-boost claims on results from the SunSpider JavaScript Benchmark. My own SunSpider tests, on a 2GHZ aluminum MacBook with 2GB of RAM, roughly matched Mozilla's results. Firefox 3.0.10 completed the test in 3,645.8 milliseconds, while Firefox 3.5 roared past it in 1,464.4 milliseconds. But Mozilla understandably does not mention that Apple's rival Safari 4 ( ) browser could soundly thump both of them in the same test, clocking in at 756.4 milliseconds–nearly twice as fast as Firefox 3.5.
Safari 4 also bested Firefox 3.5 in the XHTML and CSS rendering tests I ran–but surprisingly, so did Firefox 3.0. Firefox 3.5 displayed a local copy of the XHTML test file in 2.66 seconds, compared to 2.55 seconds for Firefox 3.0 and 0.49 seconds for Safari 4. In CSS rendering, Firefox 3.5 took 361 milliseconds to complete the same locally hosted test that took Firefox 3.0 355 milliseconds, and Safari 4 just 35 milliseconds.
However, Firefox 3.5 fared much better than its predecessor in Web standards compliance. It scored a 93 out of 100 on the Acid3 test, handily beating Firefox 3.0's 71, and successfully handled 576 of 578 selectors in a CSS3 compliance test, compared to Firefox 3.0's 371. (Safari 4 got perfect scores on both tests.)
Despite these test results, it's important to note that Firefox 3.5 never felt sluggish in normal use. In my tests, it rendered Web pages quickly, displayed code that thwarted earlier browsers without a hiccup, and seemed just as nimble and responsive as Safari 4.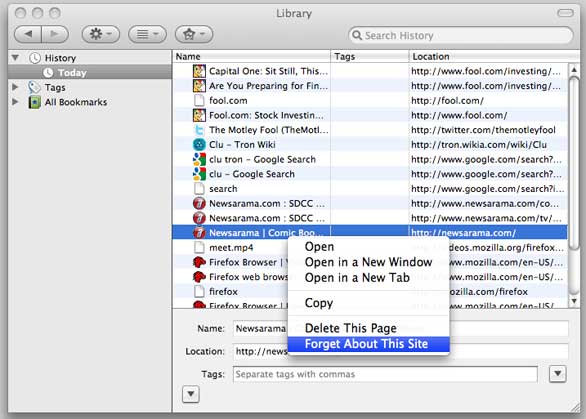 The latest tech
Firefox 3.5, like Safari 4, includes support for the latest additions to the still-developing HTML 5 markup language, including the ability to play video and audio files without any special plug-ins. Unfortunately, Apple and Mozilla each support only one of the two video formats HTML 5 embraces. Apple prefers its homegrown H.264 codec, while Mozilla advocates the open-source Ogg Theora standard. Mozilla 3.5 does a great job playing Ogg Theora files, but chokes on YouTube's HTML 5 test page and its H.264-based clip.
Other HTML 5 features, including support for the canvas element (used to draw graphics using scripting), worked perfectly in Firefox 3.5, and it handled example pages of the emerging JSON (JavaScript Object Notation) data format just fine. Firefox 3.5, like Safari 4, also supports the ability to display downloadable fonts, but this feature's not yet in common use on the Web.
In addition, Firefox 3.5 boasts support for location-aware browsing, a new feature that may strike some users as incredibly cool, and others as creepily Orwellian. Sites that employ location-aware browsing can use data about the network to which you're connected to plot your geographic position–for example, to automatically bring up a list of all the restaurants within three blocks of your computer.
Privacy buffs will be glad to know that this feature's strictly opt-in. Firefox 3.5 clearly warns you when a site wants to learn your location, and it lets you grant sites access on a case-by-case basis. Besides, for now the feature seems to exist only on a handful of test pages, in which it's used only to display your current location on a map.
Protecting privacy
Firefox 3.5 does more than any previous version of the browser to keep your surfing safe from prying eyes. Mozilla has finally implemented its own version of Safari's "Private Browsing" feature, which works as advertised; once in private mode, you can surf to all the sites you like, and leave no trace behind in your history. I also noticed one particularly big improvement in Firefox's ability to automatically erase your private data when you quit the program: It no longer pops up an aggravating dialogue box to get your permission every time. Instead, you can set which parts of the browser you want wiped within the Preferences menu, and never worry about it again.
Another savvy addition proves better in theory than in practice. While browsing your history, you can right-click any site and select "Forget This Site," to remove all traces of it from your browser–with one catch. Firefox deletes pages from a site based on the exact domain name. So if you initially surf to "google.com," and subsequent links from that page take you to "www.google.com," selecting "Forget About This Site" on one of the "www.google.com" pages won't remove the "google.com" one. Mike Beltzner, director of Firefox development, said the programmers were "erring on the side of caution," since different subdomains could represent entirely different sites. However, he said refinements to this feature are under consideration for future releases.
All the old favorites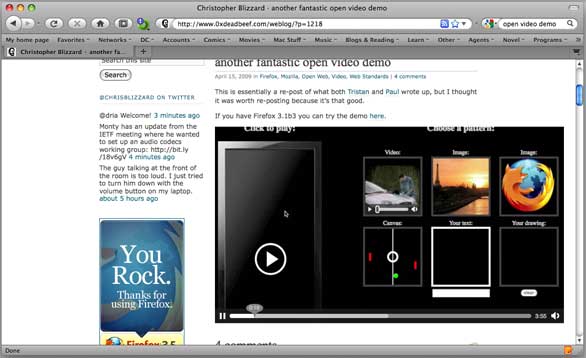 The numerous features that set Firefox apart from its peers haven't gone anywhere in version 3.5. The browser still works with an army's worth of user-created add-ons, which handily do everything from debugging JavaScript to blocking suspicious scripts to letting you update your blogs or listen to Web radio while you surf.
Tabbed browsing gets an extra layer of polish in Firefox 3.5. You can not only drag and drop tabs to reorganize them within a given window, but also drag a tab out of an existing window to automatically create a new window of its own. Firefox's ability to remember your tabs even after you've quit the browser hasn't gotten any less handy, and its Recently Closed Tabs option in the History menu remains ideal for those moments when you accidentally hit the wrong button or keystroke.
What Mozilla dubs the "Awesome Bar" continues to live up to its name, pulling useful suggestions from your history, user-created tags, and bookmarks as you type a URL. Users of Apple's newer laptops will also enjoy Firefox 3.5's full support for gestural controls, including swiping to move back and forward and pinching to zoom in and out.
And if you've got a burning need to surf the Web in any language from Amharic to Zulu, Firefox 3.5 and its 70-plus native language options now have you covered. (Unlike Safari, whose multilingual support bloats the application's size to 80MB, Firefox 3.5 crams all this fluency, and all its other features, into a relatively svelte 50MB.)
Macworld's buying advice
If you have the need for speed above all else, Firefox 3.5 can't hold a candle to Safari's raw power. But for most users, the difference will be negligible. Firefox has evolved into a beautiful, polished program that's a pleasure to use. When it comes to customization and flexibility, it's light-years beyond any other browser on the market.
[Nathan Alderman is a location-aware writer and copy editor in Alexandria, Va.]