At a Glance
Expert's Rating
Pros
Good-looking prints
Compact size
Cons
Difficult network scanning setup
Low-resolution scanner
Our Verdict
Konica Minolta's magicolor 1690MF is a compact multifunction device with a color laser printer, flatbed scanner, and fax. It connects to your Mac either via USB or 10/100 Ethernet.
The beige and dark gray 1690MF has a 50-sheet automatic document feeder, making it easy to copy or fax multipage documents. The 100-sheet input tray for the printer may be adequate for small or home offices, but if you plan to approach the 35,000-page-per-month duty cycle (as rated by Konica Minolta), you might want to purchase the optional 500-sheet paper tray for $99. Another option worth considering is the automatic duplexing unit ($99) that allows you to print on both sides of a sheet of paper.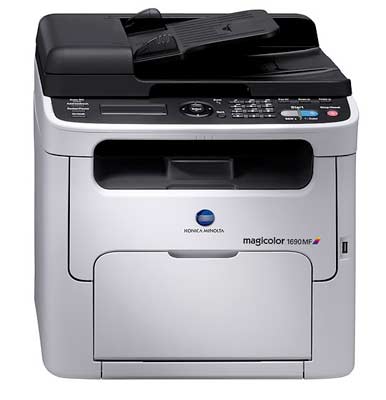 Color printer
Many color laser printers these days use a single-pass method of color printing, where the paper goes through the printer once as the toner is placed. The 1690MF uses four passes for color prints, however, so its rated speed for color documents is just 5 pages a minute. When it comes to monochrome documents, the 1690MF needs only a single pass, so the rate speed is a quick 20 pages per minute.
Timed trials: Print
| | |
| --- | --- |
| 10-page Word test | 0:39 |
| 1-page Word test | 0:11 |
| 22MB Photoshop image | 0:41 |
| 4-page PDF | 1:10 |
Scale = minutes:seconds
Not surprisingly, the printer didn't match the company's speed claims in our timed tests (few printers, if any, do match the company's ratings), but print speeds were zippy nonetheless. Our 10-page black-and-white Word document test took just 39 seconds for the 1690MF to complete. Our one-page Word document test took 11 seconds to print—in our experience, most printers take at least 15 seconds, so 11 seconds is pretty quick. In our test involving a 22MB Photoshop file, the 1690MF took 41 seconds, a little on the slow side but faster than most color lasers in the 1690MF's class.
Jury tests: Print
| | |
| --- | --- |
| Graphics: fine lines and gradients | Very Good |
| 22MB Photoshop image quality | Good |
| Text quality | Superior |
Scale = Superior, Very Good, Good, Fair, Poor
Unlike higher-end laser printers, the 1690MF does not have a Postscript processor. It uses host-based processing, meaning that your computer prepares the file for printing and transfers it to the printer.
The prints from the 1690MF were of Very Good quality. Text was clean and sharp, even at small point sizes. Thin curved lines were smooth and unbroken. Color ramps were also smooth, with only a little banding in the green bar. Color photos on plain paper looked good, with pleasing skin tones. The copies printed from the 1690MF were also pretty impressive: a color copy of a magazine cover was clean and easy to read, and accurately reproduced colors and details. A copy of our resolution test page revealed that the unit had a bit of difficulty resolving some of the finest lines, but it was definitely good enough for most copying tasks.
Scanner
Timed trials: Scan
| | |
| --- | --- |
| 8-by-10-inch photo, 600-dpi scan | 0:32 |
| 4-by-6-inch photo, 1,200-dpi scan | 0:27 |
Scale = minutes:seconds
Scans of a color photo were dark and heavy on the reds. Shadows were blocked up and some small text on a recipe card in our test photo was difficult to read—something most scanners I've tested haven't had much trouble with. Our grayscale resolution test was also lacking in detail, with the lines looking heavy and black.
Jury tests: Scan
| | |
| --- | --- |
| Color | Fair |
| Clarity | Good |
| Copy | Very Good |
Scale = Superior, Very Good, Good, Fair, Poor
While using the scanner, we found the setting choices in the software confusing. There are four settings: True Color, Grayscale, Photo, and Black and White. The Photo setting doesn't actually do color photos, it only does black and white photos. Also, we were unable to perform a network push scan, which uses the buttons on the scanner to set up a scan job that is transferred to a Mac on the same network. Konica says that it is possible to do this, though it requires turning on SMB sharing on your Mac and then registering the shared volume as a Speed Dial address through the printer's Web browser utility. The documentation on this setup is incomplete, and it took awhile for the HP engineer we worked with to come up with the proper instructions. We had no problem with push scans over USB 2.0, and importing a scan from Photoshop on our Mac worked over both USB 2.0 and Ethernet.
The scanner was fast, but part of the reason the scanner is so fast is that its resolution is lower than that of most scanners found in multifunction devices at the same price. Also, the 1690MF's scanner is able to output only 24-bit scans, not the 48-bit scans that are more common in photo-centric scanners, which of course the 1690MF is not.
Specifications
| | |
| --- | --- |
| Print resolution | 1200×600 dpi |
| Scan resolution: optical | 600 dpi |
| Max. scanning bit depth | 24-bit |
| Connection | USB, 10/100BaseT Ethernet |
| Paper sizes | letter, legal |
| Cost to replace toner | $82.50 high yield/$56 standard |
| Weight (in pounds) | 46 |
| Dimensions (height x depth x width in inches) | 16 x 20 x 17 |
| Paper capacity (in sheets) | 200 |
| Special features | 50-sheet automatic document feeder, optional duplex |
Macworld's buying advice
The magicolor 1690MF is a capable color laser multifunction device. With very good printed output, handy features like the automatic document feeder and built-in fax machine, and 10/100BaseT Ethernet networking, the 1690MF is a good fit for small or home offices looking to produce high-quality office documents. Scanning is its only weakness, with the confusion over the photo software driver settings, difficult push scanning over the network, and murky scans; the scanner works best when used as part of the copy function.
[James Galbraith is Macworld's lab director.]
[Editor's note: Updated 3:45PM PST to correct the printer's duty cycle.]