It's hard to determine what the future will bring, but if standard video game lore is by any means accurate, there will be an apocalypse, giant corporations will rise to power, and a small rebellion will fight these corporate overlords via mechanized robotic weaponry.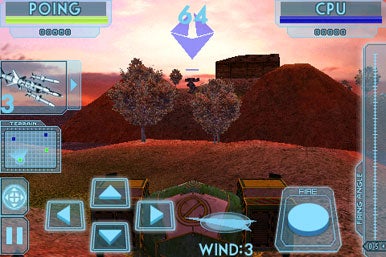 Or at least that's how the future will be according to Iron Sight, a robotic warfare simulation game in the tradition of Scorched Earth. In this $4 game from Polarbit, you take control of either the Corporation or Rebellion forces with the goal of entering a level and, in a turn-based fashion, destroying the other team's units within a given period of time via standard missiles, cluster bombs, homing missiles, tactical teleporting, and other weaponry.
The game features two five-level campaigns; there's also a single-player mode, which takes you through progressively more difficult levels, unlocking them as you go. Combat is relatively straightforward. Upon entering the level, you take control of a unit, open up its movement and weapon screens, move to a desired location, adjust your firing angle, hold the fire button (press it longer for increased distance), and hope for the best. You have the option of choosing a heads-up display to see the trajectory of the round you're about to fire at the beginning of the level; be warned that there is a points handicap for choosing this option.
Iron Sight's graphics won't win any awards, but they're effective enough to get the job done. The game shines on its sound, music, and physics engine. Additional bells and whistles include good sound and difficulty customization, a useful auto-save function, and a fun Hot Seat feature in which the player can set the game for two players, handing the iPhone off to a nearby opponent. An Internet-based multiplayer function allows you to either join or host a game session. The feature shows some great promise, even if it's difficult to find an opponent to play via the three servers currently offered.
Even in sessions where it's just you against the computer, there's something interesting to be had with Iron Sight. The game is pure, unbridled guesswork with some tactics as to what weapons to use (as well as the computer dropping in random weapons, which then disappear a few turns later if not collected in time). Finishing off your opponent is a primal thrill, especially when your unit is on its last legs and on fire.
Iron Sight has some rough edges to smooth out—the pause button is too close to other controls, for example. The game also needs more levels, and the placement of units at the start of each level should be randomized. Finally, it's a little difficult distinguishing between missile types when you're choosing weapons.
Still, at $4, Iron Sight is off to a good start as an iPhone game. The above improvements, coupled with better multiplayer support, could make it great.
Iron Sight is compatible with any iPhone or iPod touch running the iPhone 2.x software update.
[Chris Barylick is a Macworld contributor.]